Add a touch of luxury to your summer dining with this delicious Italian inspired salad which uses mozzarella as its starting point.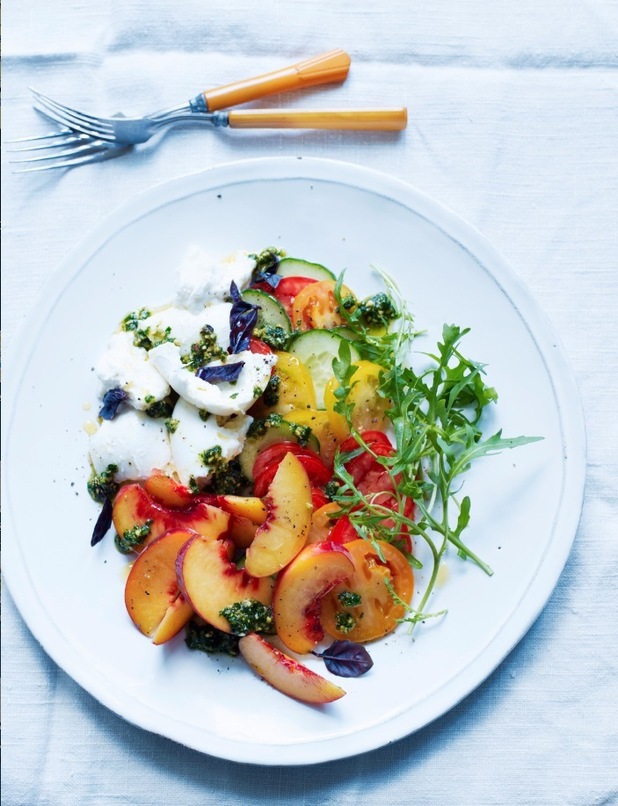 Even if you're not going any further south than Bournemouth this summer, you can still conjure up memories of the Mediterranean in your kitchen with gorgeous recipes like this one, which uses seasonal fruit as well as veg.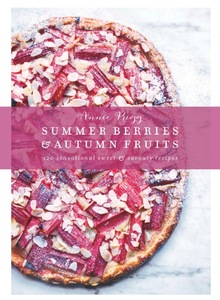 It's from Annie Rigg's new book,
Summer Berries and Autumn Fruit (£19.99, Kyle Books)
which has some gorgeous fruit-based recipes.
In this one, she's combined tomatoes with peaches and herbs for spectacular effect.
If you're pushed for time, you can pass on the pistachio pesto in favour of your own dressing, but the home made pesto really adds a touch of luxury.
Annie writes: 'As with all simple salads, success lies in using the absolute best, most flavoursome produce you can find, so save this for high summer when the peaches are juicy and the tomatoes have been warmed by the sun.
'You can make it with burrata (an Italian cheese made with adding cream to mozzarella) if you prefer, but it can be a little too creamy for my taste.
Ingredients
4 ripe peaches, washed and dried
1 Lebanese cucumber or 1/2 regular cucumber
6 heirloom tomatoes, preferably mixed colours
A good handful of wild rocket
2 x 125g balls buffalo mozzarella
A handful of purple basil
3 tablespoons aged balsamic vinegar
3 tablespoons extra virgin olive oil
Freshly ground black pepper
For the pistachio pesto
50g shelled unsalted pistachios, lightly toasted
1 garlic clove, peeled
30g flat-leaf parsley
A dash of lemon juice
100ml extra virgin or pistachio oil
Salt and freshly ground black pepper
Method
1 First make the pesto. Tip the lightly toasted pistachios into the bowl of a mini processor and whizz until finely chopped. Add the garlic and parsley and whizz again to combine.
2 Then add the lemon juice and half of the oil, season well with salt and black pepper and blend until almost smooth. Add the remaining oil and whizz once more. Set aside for 30 minutes for all of the flavours to mingle, after which time taste the pesto and add more salt and pepper as needed.
3 Cut the peaches in half, remove the stones and cut the fruit into wedges. Cut the cucumber into bite-sized pieces and slice the tomatoes.
4 Arrange the rocket on each plate and top with peaches, cucumber and tomatoes.
5 Tear the mozzarella into pieces and divide between the plates.
6 Spoon the pesto over each salad and scatter with the basil. Finish with a drizzle of the balsamic vinegar and extra virgin olive oil and a good grinding of black pepper.
Nutrition Information
Serves 4
Check out more super salad recipes in our gallery...