Make the most of delicious seasonal cherries with this gorgeous summery dessert from Masterchef 2013 winner, Natalie Coleman.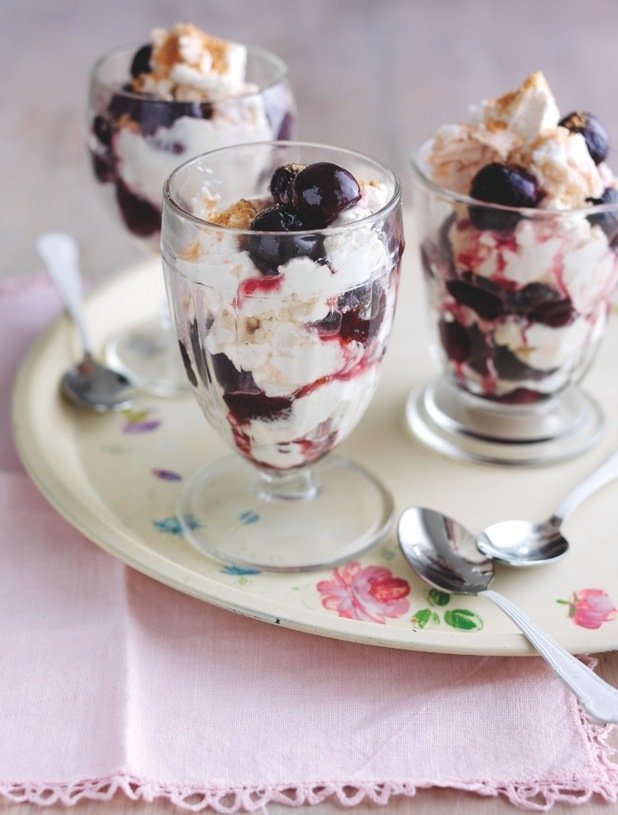 This is her twist on the oh-so-traditional Eton Mess. I'm sure she won't mind you using ready-made meringues if you're stuck for time. Enjoy!
Ingredients
For the meringues
4 egg whites
150g caster sugar
1⁄2 tsp white wine vinegar
For the roasted cherries
500g cherries - pitted
2 tbsp runny honey
Zest 1⁄2 orange
1 vanilla pod - split and seeds removed
For the vanilla whipped cream
300ml double cream 3 tbsp icing sugar
1 tbsp vanilla paste
3 ginger biscuits blitzed to ground crumbs
Method
For the meringue
1. Preheat the oven to 160°C/Gas Mark 3.
2. Whisk the egg whites with an electric mixer to stiff peaks. Add the sugar, 1 tablespoon at a time, whisking well between each addition.
3. Fold in the vinegar with a spatula then spoon the meringue mixture on to a baking tray lined with baking parchment. You want it to be 1.5cm thick.
4. Reduce the oven temperature to 150°C/Gas Mark 2 and bake for 45 minutes or until the outside of the meringue is set; lightly golden brown and the inside will be chewy. Leave to cool on the baking tray. Once cooled, break into pieces.
For the roasted cherries
1. Preheat oven to 180°C/Gas Mark 4.
2. Place all the ingredients into a baking tray and mix well.
3. Roast in the oven for 20mins until the cherries have softened. Remove from the oven and remove the vanilla pod. Allow to cool to room temp before serving.
For the vanilla whipped cream
1. Whisk or using an electric mixer, beat the ingredients until soft swirls and set aside until ready to serve.
To serve
1. Add the broken meringue pieces to the vanilla whipped cream and then fold through the roasted cherries but don't mix too well as you want it to be red and white not all pink.
2. Spoon into glasses, sprinkle with the crushed ginger biscuits and serve within 30 minutes so that the meringue keeps its wonderful texture.
Nutrition Information
Serves 6
Check out
Seasonal Berries
for more recipes using home grown fruit.
And see our gallery below for more delish dessert ideas!