Stuck for BBQ inspiration? Why not try this delish bacon, cheese and beef burger?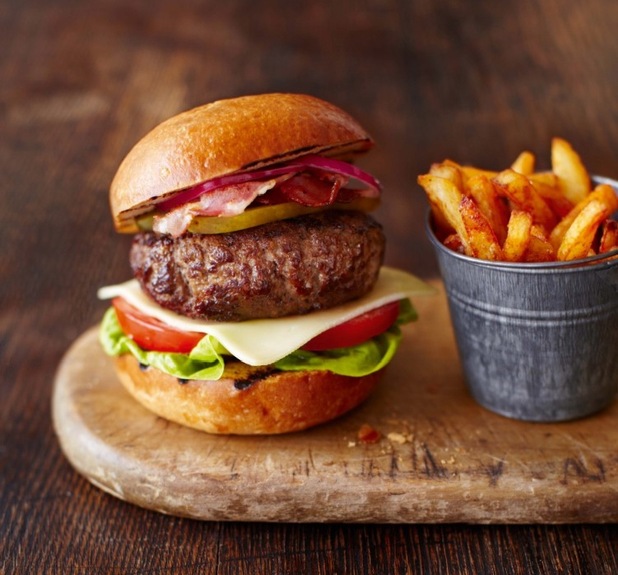 To celebration Taste of London
Asda
has created this delicious bacon, cheese and beef burger. Try it for yourself if you can stop salivating at your screen....
Ingredients
800g Extra Special Aberdeen Angus Reduced Fat Mince
10g smoked sea salt
3g black pepper
15g Panko Breadcrumbs
30ml Extra Special Golden Ale Premium
30g French's American Mustard
8 slices Extra Special Pancetta
4 Brioche buns
80g Extra Specal Vintage Gouda, thinly sliced
4 thin slices red onion
2 vine-ripened tomatoes, thinly sliced
8 slices pickled gherkin
1 Little Gem lettuce
Method
1 In a large bowl, mix the mince, smoked sea salt, black pepper, breadcrumbs ale and mustard.
2 Divide the mixture into 4 and shape into burgers. Now put the burgers onto a plate and leave them in the fridge to firm up.
3 Grill the burgers on each side until cooked - 3 mins for rare; 4 mins for medium; 6-7 mins for well done.
4 Grill the pancetta until it's crispy. Cut all the brioche buns in half and lightly grill the insides.
5 Put a burger in each bun with a slice of Gouda, red onion, sliced tomato, pickled gherkin, pancetta and lettuce.
Check out more BBQ recipes in our gallery....
Copyright: Jack Daniels