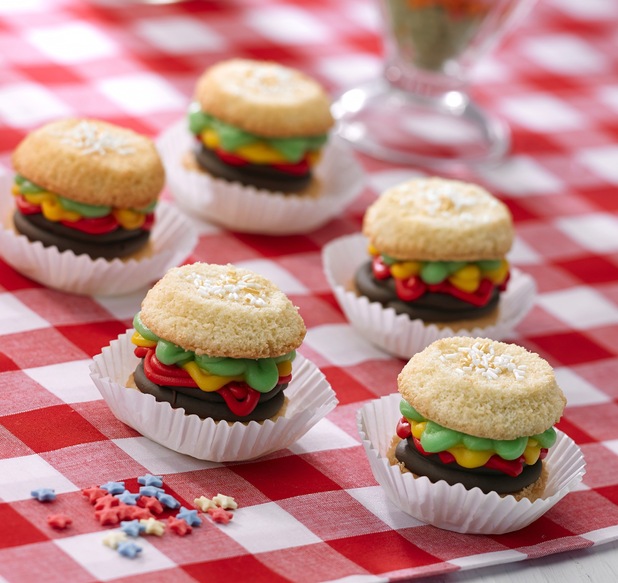 Order up! Turn your kitchen into a diner and be a burger Queen with this quirky recipe from
Cake Angels.
Ingredients
For the cupcakes
125 grams self-raising flour
125 grams caster sugar
125 grams soft unsalted butter
2 large eggs
½ teaspoon vanilla extract
2 tablespoons milk
For the buttercream
1 tub of Cake Angels Vanilla Frosting
½ tub of Cake Angels Chocolate Frosting
Method
1
Preheat the oven to 200ºC/gas mark 6 and line a muffin tin with 12 cake cases.
2
Put all the ingredients except for the milk in a food processor and blitz until smooth. Pulse while adding milk down the funnel, to make a soft, dropping consistency.
3
Or using a bowl and wooden spoon, cream the butter and sugar, beat in the eggs one at a time with a little of the flour. Add the vanilla extract and fold in the rest of the flour, adding the milk to make a soft, dropping consistency.
4
Spoon into the cases equally and put in the oven and bake for 15-18 minutes until the cup cakes are cooked and golden on top.
5
As soon as possible, take the cup cakes in their cases, out of the tin and let cool on a wire rack. Peel the cupcakes out of their cases and cut the cake in two horizontally.
6
Using a piping bag with a medium open nozzle, half fill with the chocolate buttercream/frosting, securing the top of the bag with a freezer clip.
7
Take the bottom half of the cake and pipe round the outer edge of the cup cake. Slowly work your way round in a spiral as you reach the centre of your cupcake.
8
Take the vanilla buttercream/frosting and divide into 3 bowls colouring one red, one yellow and one green. Put each coloured buttercream/frosting into a zip lock bag and carefully snip a small piece off one of the lower corners.
9
Take your sponge with the piped chocolate 'burger' and slowly drizzle some red 'ketchup' icing, then some yellow 'mustard' icing and finally some green 'lettuce' icing.
10
Sprinkle some white sugar strands on top and serve immediately.