This delicious-looking beetroot and feta salad with tangy lime dressing has been created by leading dietitian and diabetes expert Azmina Govindji to mark National Diabetes Week.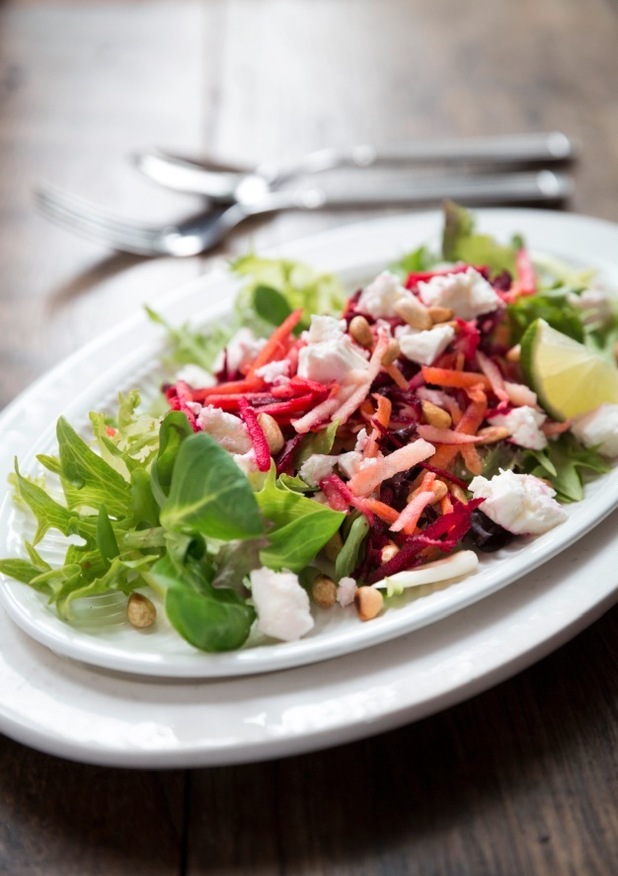 This healthy light meal is made from crunchy beetroot, carrot and apple, coated in a sweet, lime dressing. The feta and pine nuts add protein and the Splenda sugar alternative balances the earthiness of the beetroot.
Add some carbs by serving with whole grain crispbread, or strips of warm wholemeal pitta bread. No need to add salt though as there's enough salty flavour in the cheese.
Ingredients
2 raw beetroots, peeled and grated
2 firm red apples, grated
2 carrots, peeled and grated
120g feta cheese, diced into small chunks
For the dressing:
1 tbsp. Splenda® Granular
¼- ½ tsp French mustard, as desired
Cracked black pepper, to taste
1 ½ fresh limes, juice only
To serve:
Mixed salad leaves
4 spring onions, finely sliced, green stems only
2 tbsp. pine nuts, toasted
½ fresh lime, cut into wedges
Method
1 Mix together the beetroot, apple and carrots till well combined.
2 Make the dressing by putting all the ingredients into a screw-topped jar, shake well.
3 Coat the beetroot salad in the dressing and adjust the seasoning if necessary. Lightly toss in about ¾ of the feta cheese, reserving the rest for serving.
4 Lay the beetroot salad on a bed of mixed leaves, topped with the remaining feta cheese, spring onions and toasted pine nuts, with lime wedges on the side.
Prep Time
20 minutes
Nutrition Information
Serves 4
So whether you have diabetes yourself or you have a loved one that does, SPLENDA® s has created some simple, delicious recipes for those looking to reduce their sugar intake without sacrificing on taste! Click
here
for more recipes.