Summer is here and this is the ultimate cake treat for family get togethers and celebrations.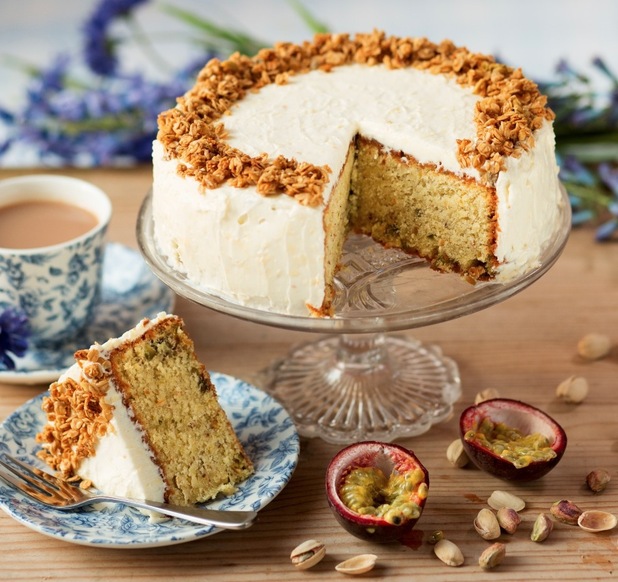 This cleverly designed cake by foodie bloggers
The Crumbs Sisters
has the yummy and original touch of being infused with deliciously crunchy Lizi's Passionfruit & Pistachio Granola.
The best thing is, it looks harder than it is. Go on - give it a try. (And save us a slice!)
Ingredients
250g butter - room temperature
250g sugar
100g pistachios, roasted but not salted
100g ground almonds
200g plain flour
1 tsp baking powder
2 tbsp Greek yoghurt
3 eggs
Juice and zest of an orange
Passionfruit Icing
50g butter - room temperature
150g cream cheese
75g icing sugar
1 passion fruit (or passion fruit curd)
1 tbsp Lizi's Passionfruit & Pistachio Granola
Method
1 Butter and line a 20cm cake tin. Preheat oven to 180 degrees C/160 fan.
2 Give the butter and sugar a really good mix with a handheld blender or a standalone mixer (if you've got one, lucky thing!).
3 After about three minutes of whizzing, add pistachios, almonds, flour, baking powder and the yoghurt. Give it a good beating, till everything is well mixed. Then add the eggs, one at a time.
4 Pour the batter into the lined cake tin and put in the oven for around 50 minutes, until a skewer comes out of the cake clean.
Leave to cool and make the icing.
5 With an electric whisk cream the butter until it is pale. Add the cream cheese, whisk some more and then whisk in the icing sugar.
6 Cut the passion fruit in half, and sieve the juice into the icing. You could put the seeds in too, but for something a bit simpler-looking, just the juice will do (or a tablespoon of passionfruit curd) Stir and then, using a knife, spread the icing on to the cake.
7 Crumble the granola over the top for a yummy crunch.
Nutrition Information
Serves 10
Check out more amazing cakes in our gallery below