Thanks to the likes of Beyoncé, Jay-Z and J.Lo, eating vegan has never been more popular and this delicious vegan recipe for Keralan coconut & vegetable curry with pineapple & watermelon salad shows you just how well you can eat.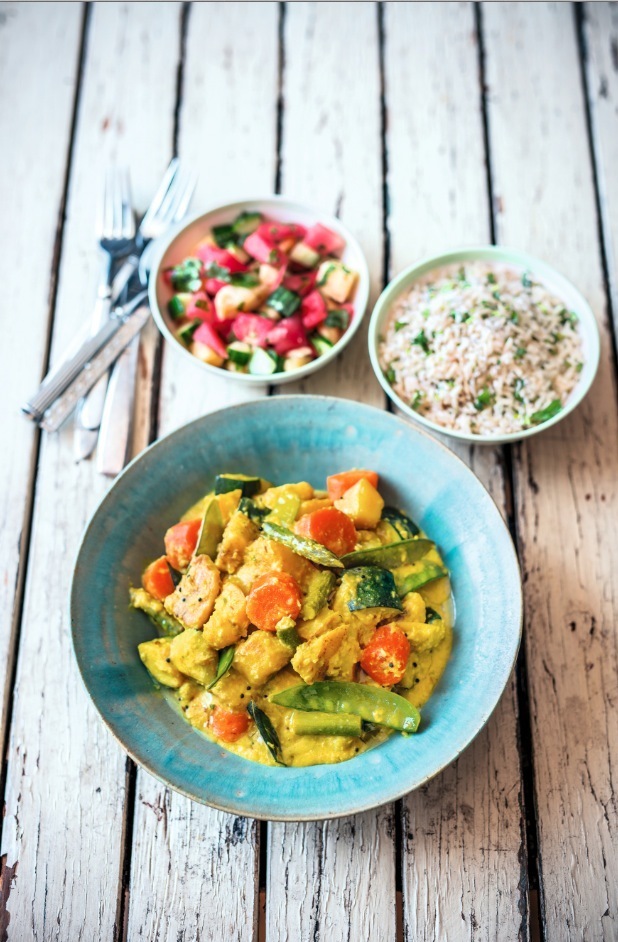 Going vegan means no meat, dairy or fish. Sounds extreme, but the stars love it as it's super healthy and is great for shedding the pounds.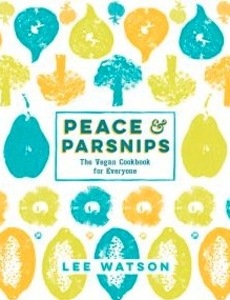 Bey and Jay famously lost pounds and looked amazing after a 22-day vegan cleanse last year so, with summer holidays on the horizon, why don't you give this delicious recipe a try?
It's a great intro to the delights of vegan deliciousness and is from
vegan food blogger Lee Watson's
new recipe book,
Peace & Parsnips
(Penguin, £20).
Lee writes: 'This dish is called aviyal and comes from Kerala in south-western India.
'I've added "English vegetables" (what the older Keralans still call things like carrots and green beans), along with fistfuls of coconut.
'In Kerala they use a vegetable called "drumstick", which resembles elongated okra and adds a lovely subtle flavour.
'When I'm cooking there I pick them straight from the tree. The general rule with curry leaves is: the fresher the better.
'When pineapples and watermelons are out of season, make the salad with fruit combos like apple and peach or pear and orange'
Ingredients
For the curry:
2-3 fresh green chillies
2 big handfuls of freshly grated or desiccated coconut
2tsp cumin seeds
220ml coconut milk or unsweetened soya yogurt
2 large carrots, scrubbed
2 large potatoes, scrubbed
1 large courgette
6 fat asparagus spears
2 green plantains, peeled
200ml water
1tsp ground turmeric
1tsp of sea salt
1 big handful of mangetout or green beans
2tbsp coconut oil
2tsp mustard seeds
3tbsp curry leaves
For the pineapple & watermelon salad:
A small pineapple
One third of a small watermelon (don't bother deseeding)
1 large cucumber
1 small handful of fresh coriander, roughly chopped
A pinch of sea salt
A large pinch of chaat masala mix or black salt (optional)
Method
1 In a pestle and mortar or a food processor, blend together the chillies, coconut and cumin seeds (if you're using desiccated coconut, add 2tbsp of the coconut milk to make a thick paste). This is best done in advance and can be left overnight in the fridge to develop zing.
2 Cut the carrots, potatoes, courgette, asparagus and plantains into 2.5cm pieces. Heat the water in a large pan and add the turmeric, salt, carrots and potatoes. Bring to a steady boil, then lower the heat to a simmer and pop a lid on the pan. Cook for 10 minutes, then add the courgettes and plantains and cook for 10 minutes more, keeping the lid on.
3 Add the coconut paste to the curry with the coconut milk or yogurt and stir carefully to combine. Cook uncovered for 8-10 mins on a gentle simmer. Check that the carrots and potatoes are tender, then add the asparagus and mangetout and remove the pan from the heat. Cover, set aside for a few minutes, serve.
Nutrition Information
Serves 4
Check out more veggie & vegan recipes in our gallery below.
Copyright: Morrisons