Planning a Bank Holiday get together? Why not try this fab recipe from TV chef Tom Kerridge for his Black Pepper Pulled Pork Sloppy Joes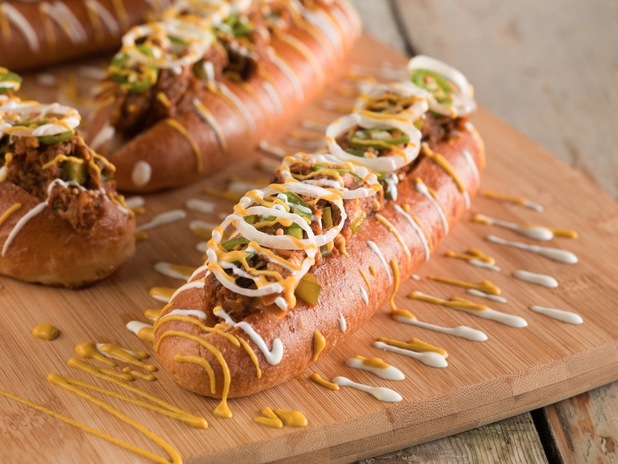 Ingredients
2 white onions, sliced
1 tbsp garlic powder
3 cloves of garlic, grated
2 tsp cracked black pepper
1 tbsp tomato puree
1 pint chicken stock
400g pulled pork
2 green peppers, diced
1 green chilli, sliced
1 tbsp American mustard
Zest of 1 lime
Pinch of cayenne pepper
1 tbsp smoked paprika
1 tsp marjoram
To serve
6 glazed hot dog buns
1 tbsp pickled green chillies
2 banana shallots, sliced into rings
1 tsp toasted yellow mustard seeds
3 tbsp Sour cream (Dispensed into a squeezy bottle)
3 tbsp American mustard (Dispensed into a squeezy bottle)
Method
1 In a heavy based sauce pan, heat a little oil and fry off the onions until golden.
2 Add the garlic powder, fresh garlic and paprika, marjoram, black pepper, sweat down for a few minutes to release the flavour.
3 Add the puree and chicken stock and bring up to the boil. Once boiling, add the pulled pork and simmer for 1 hour.
4 Ten minutes from the end, add the green pepper and green chilli and allow to soften slightly. To finish, add the mustard, lime and cayenne pepper.
5 Spoon the mixture into the glazed hotdog bun, scatter over the chillies, shallot rings and mustard seeds. To serve, pipe over the sour cream and mustard.
Nutrition Information
Serves 6
Check out more pork recipes from Tom at
lovepork.co.uk