It's World Baking Day tomorrow, so why not join in?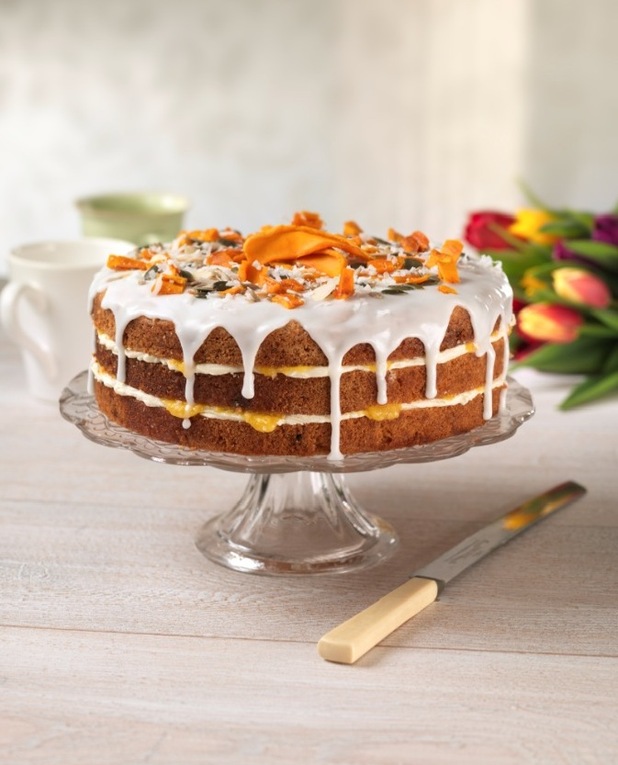 Here's a super recipe to inspire you - this delicious Coconut, Mango and Lime Cake which has been dubbed "the world's happiest cale' due to the use of ingredients which are said to help boost endorphins!
There's only one way to test that claim - by giving this cake a try. Enjoy!
Ingredients
225g Stork block
325g caster sugar
4 eggs, medium
250g self-raising flour
100g plain flour
Zest of 2 limes
50g dried mango, finely chopped
50g flaked almonds
50g desiccated coconut
Syrup
Juice of 2 limes
60g caster sugar
Filling
55g (2 oz) Stork tub
175g icing sugar
1-2 teaspoons milk
100g mango puree (fresh or tinned)
Topping
100g icing sugar, sieved
25g each of shredded or desiccated coconut and dried mango
15g each sunflower and pumpkin seeds
15g flaked almonds, toasted
Method
1 To make cake, place Stork block and sugar in a mixing bowl and beat until light and fluffy. Beat in eggs, one at a time and fold in remaining ingredients
2 Place the mixture in a greased and bottom lined 23cm deep cake tin
3 Bake on the middle shelf of a preheated moderate oven 170° C, 160° C fan oven, Gas mark 4 for 1 hour 10 minutes or until a skewer inserted in the middle of the cake comes out clean
4 Turn out and cool on a wire tray
5 For the syrup place sugar and lime juice in a pan over moderate heat and stir until sugar has dissolved. Bring to the boil and then pour over warm cake
6 Filling: place Stork tub, sugar and milk together in a bowl and beat together until smooth. Split cake into 3 and sandwich together with icing and mango puree
7 To finish the cake, make a glace icing by adding either lime juice or water to the icing sugar until a thick pouring consistency and spread over the cake. Top with a mix of seeds, mango, coconut and almonds
Prep Time
30 minutes
Cook Time
1 hour 10 minutes
Nutrition Information
Serves 16
Love making cakes? Try these recipes....