We're big fans of WIll Torrent's chocolate-inspired recipes and we adore this one for White Chocolate Cheesecake with Strawberries and Basil.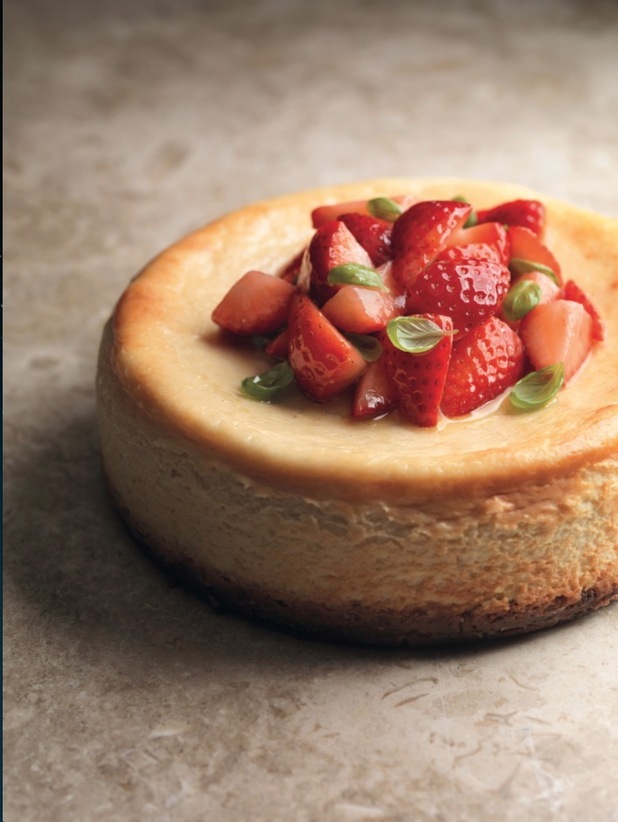 After starting his career aged just 16 working for experimental TV chef Heston Blumenthal, Will has gone from strength to strength. He's won numerous awards and his fans include Heston, Jamie Oliver and Tom Kerridge. Now, Will has brought out his second book,
Chocolate At Home
.
It tells you all you need to know about cooking with chocolate and the techiques your need to make everything from chocolate fondants, biscuits, ice cream and puddings.
'This baked cheesecake is made with white chocolate and cream cheese for a lovely open, yet creamy, texture,' writes Will.
'The base is made with biscotti cookies which give a great crunchy texture but also a delicious flavour.
'Topped with a strawberry salad tumbled with baby basil and olive oil that cuts through the richness of the cheesecake, it is a wonderful dessert for a summer party.'
Ingredients
175g plain biscotti
75g unsalted butter, melted
175g white chocolate, chopped
600g full-fat cream cheese
3 large eggs
300ml soured cream
175g caster sugar
1tbsp cornflour
1tsp pure vanilla extract
Freshly squeezed juice and grated zest of 1 lemon
TO SERVE
250g strawberries, hulled and quartered
1 small bunch baby basil
4–5tbsp fruity extra virgin olive oil
You will need a 20cm/8ins round springform cake pan, greased and lined with baking parchment
Method
1 Preheat the oven to 170°C/300°F/gas 3.
2 Crush the biscotti in a freezer bag using a rolling pin and tip into a large mixing bowl. Pour the melted butter into the crumbs and stir to combine. Tip the mixture into the prepared pan and press into an even layer with the back of a metal spoon to form a base.
3 Bake on the middle shelf of the preheated oven for 5 mins. Remove and set aside to cool. Do not turn the oven off.
4 Melt the chocolate in a heatproof bowl set over a saucepan or pot of barely simmering water. Stir until smooth and glossy and remove from the heat.
5 Put the cream cheese, eggs, soured cream, sugar and cornflour into a food processor and whizz until smooth. Scrape down the sides of the bowl with a rubber spatula, then add the vanilla, lemon juice and zest and whizz again.
6 Carefully pour the mixture into the pan on top of the baked biscotti base. Place on a baking sheet and bake on the middle shelf of the still-warm oven for 40 mins, or until just set.
7 Remove the cheesecake from the oven and let it cool completely before chilling in the fridge.
8 To serve, mix the hulled and quartered strawberries together with the baby basil leaves and extra virgin olive oil. Heap the drowned strawberries on top of the chilled cheesecake and serve in slices.
Nutrition Information
Serves 8-10
Love chocolate? Check out our gallery of recipes below