You may think of Bramley apples as an autumn fruit, but they're available all the year round and are brilliant for baking and cooking with. Why not try this fab easy recipe from TV chef Jo Pratt for mini Bramley Apple, Ginger & Caramel pies?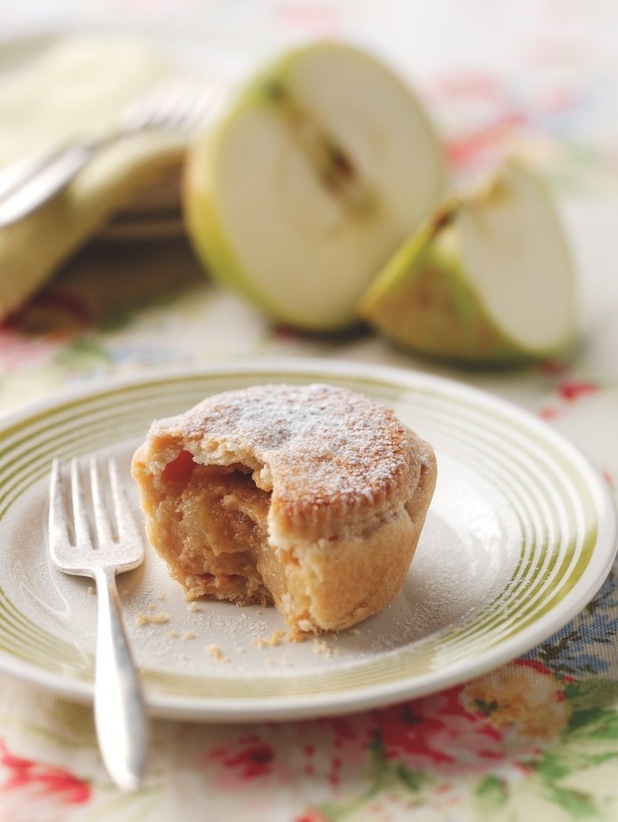 Doesn't this pie look yummy? It will taste just as good warm from the oven with a serving of clotted cream --- or when the temperature rises, ice cream on the side.
Ingredients
20g butter
2 Bramley apples (about 450g), peeled, cored and roughly chopped
½ tsp ground ginger
flour for dusting
500g shortcrust pastry
12 heaped tsp bought caramel, toffee or fudge sauce
1 egg, beaten
2 tbsp granulated sugar
Method
1 You will also need a 12 hole patty/bun tin, 9cm and a 6cm round pastry cutter, plain or fluted.
2 Preheat the oven to 180ºC/160ºC fan oven/gas 6.
3 Melt the butter in a medium saucepan and add the apples along with the ginger and 1 tbsp of water. Cover with a lid and cook for 10 minutes, stirring occasionally, until the apples are soft and almost pureed. Remove from the heat and cool slightly.
4 On a lightly floured surface, roll out the pastry to approx the thickness of a £1 coin. Cut out 12 x 9cm circles and 12 x 6cm circles, re-rolling the pastry if necessary.
5 Line the patty tin with the larger circles of pastry and put 1 heaped teaspoon of the caramel sauce in the middle of each one. Spoon the gingery flavoured apples on top. Dampen the edges of the pastry with water and sit the smaller circles of pastry on top. Press lightly with the back of a teaspoon to seal and pierce a hole in the top. Brush with the beaten egg and sprinkle with the granulated sugar.
6 Bake in the oven for 20 minutes, until the pastry is golden and crisp. Leave to cool for a few minutes in the tin before cooling further on a wire rack. Serve warm or cool.
Prep Time
25 minutes
Cook Time
20 minutes
Nutrition Information
Makes 12
Cook's tip
: If you happen to have any cooked apples left over that won't fit into the pastry cases, it can be kept in the fridge for a few days and is delicious eaten with yoghurt and granola for breakfast.
For exclusive competitions and amazing prizes visit Reveal's Facebook page NOW!
Check out more delish dessert recipes in our gallery below.
Copyright: Pam Lloyd