Doesn't this look delicious? And the best thing about this great chicken pasta recipe is that it's so EASY to do!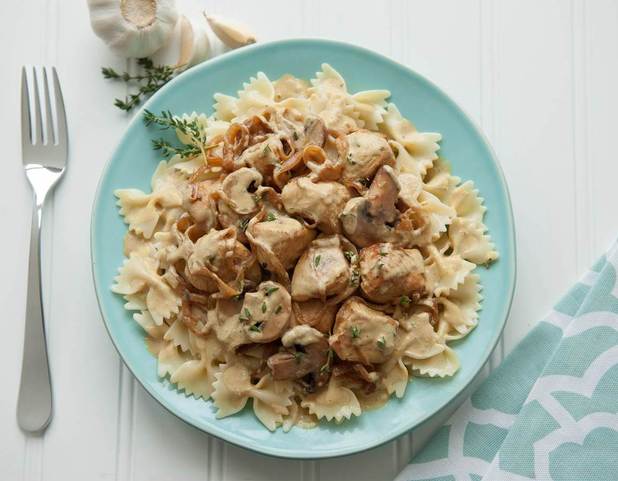 This is a recipe for those who want more holiday, and less work in the kitchen, this weekend! The key ingredient is the
US-style sweet mustard
which really gives it a kick.
Ingredients
450g boneless, skinless chicken breasts , cut into 1-inch pieces
3 Tbsp French's Classic Yellow Sweet Mustard, divided
1 Tbsp butter
1 large sweet onion, sliced
230g sliced fresh mushrooms
2 cloves garlic, minced
2 tbsp balsamic vinegar
1/2 tsp dried thyme leaves
250 ml chicken broth
125 ml heavy cream
225 g bow tie pasta, cooked according to package directions
Method
1. Toss the chicken in one tablespoon of the mustard. Heat a large non-stick frying pan over medium heat and brown the chicken. Remove and set aside.
2. Melt the butter in the same frying pan. Add onion and cook for 8 minutes or until softened. Add mushrooms and garlic and cook for 2 minutes. Add vinegar and remaining mustard and cook for 5 minutes, stirring frequently, until onions are caramelised.
3. Add the broth and bring to a boil. Return chicken to skillet and simmer for 3 minutes or until chicken is done. Stir in heavy cream and serve over hot cooked pasta.
Prep Time
12-15 minutes
Cook Time
25 minutes
For exclusive competitions and amazing prizes visit Reveal's Facebook page NOW!
Check out more pasta recipes in our gallery