If you're lucky - or self restrained enough - to have a stash of leftover Easter chocolate, why not try this really easy no cook recipe for chocolate salami?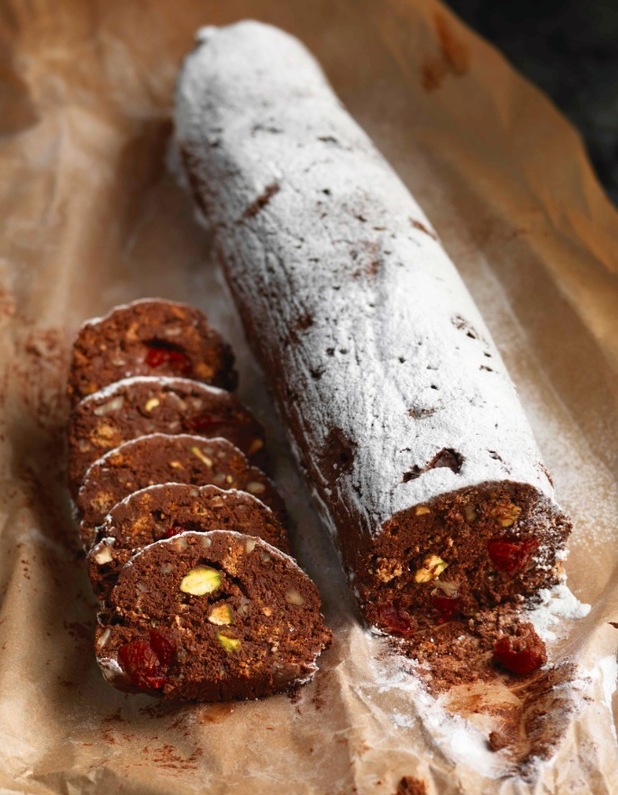 Our friends at
Dr Oetker
have shared this with us and it's the perfect recipe for parties or picnics.
Do what they do in Italy - where it's a really popular dessert - and eat it after lunch, paired with a delicious coffee.
Ingredients
250g (10oz) Dr. Oetker dark chocolate, roughly chopped (or use your Easter leftovers!)
200g (8 oz) amaretti biscuits (crunchy, not soft)
100g (4oz) soft unsalted butter
150g (5oz) caster sugar
2 tbsp amaretto liqueur
2 tbsp cocoa powder
200g jar cocktail cherries – drained and chopped
75g (3oz) pecans (roughly chopped)
75g (3oz) hazelnuts (roughly chopped)
50g (2oz) unsalted pistachios (shelled and roughly chopped)
50g (2oz) butter
2 tbsp golden syrup
2 tbsp icing sugar (to decorate)
Method
1 Melt the chocolate in a heatproof bowl suspended over a saucepan of simmering water until smooth and cool
2 Bash the biscuits into pieces until you have a bag of rough crumbs
3 Cream 100g butter and sugar together until pale and fluffy and beat in the amaretto liqueur
4 Add the cocoa powder to the cooled chocolate, stir well then add this to the rest of the mixture
5 Melt 50g of butter and the syrup in a pan over a medium heat and add this to the chocolate mixture, stir until smooth
6 Tip in the cherries, chopped nuts and crushed biscuits and mix well
7 Place in the fridge for 10 -15 minutes to firm up a bit
8 Place 2 large pieces of clingfilm, one on top of the other, onto the work surface to roll the chocolate salami out on
9 Tip the chocolate mixture out onto the clingfilm and mould the mixture into a fat salami-like log
10 Cover with the clingfilm, and twist the ends, wrap in greaseproof paper and leave to set in fridge
11 Dust with icing sugar and transfer to a wooden board, cut into slices and serve
Prep Time
20-25 mins
Nutrition Information
Makes approx 20 slices
For exclusive competitions and amazing prizes visit Reveal's Facebook page NOW!
Check out our recipe gallery for more delish recipes using chocolate
Copyright: Martin Poole for Constable Books