Strawberries and chocolate are a fab flavour combination and we love this easy recipe - just perfect for using up any left over chocolate from Easter.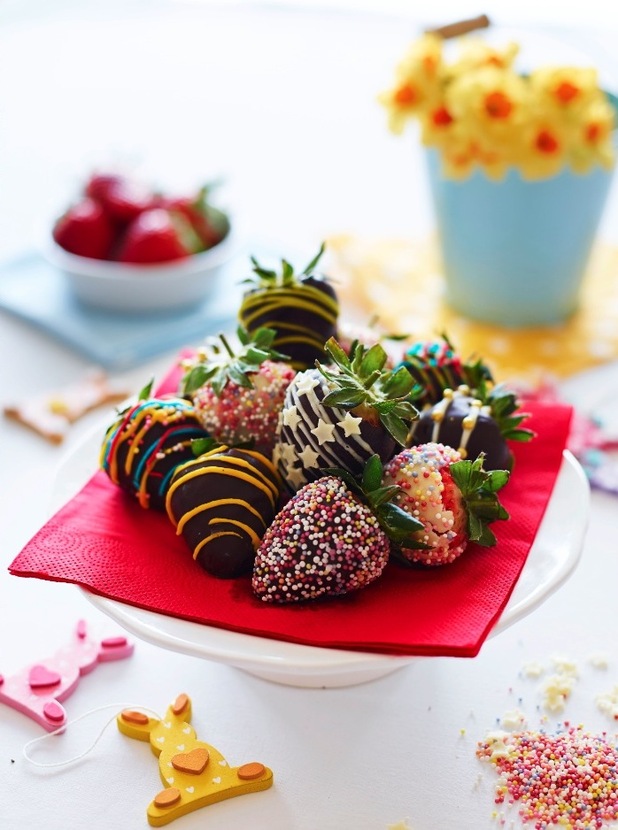 Here's a step by step video showing you how to make these gorgeous treats. Recipe is below.
Ingredients
200g dark chocolate
20 Viva Strawberries (approx.)
100g white chocolate buttons
range of food colouring (optional)
small cake decorations such as silver balls or hundreds and thousands (optional)
Method
1 Start by melting the dark chocolate in a heatproof bowl over a pan of barely simmering water. Make sure the base of the bowl does not touch the water. Break the chocolate into small pieces and allow to melt slowly without stirring. While this is happening, lay a piece of parchment paper down.
2 Once the chocolate has melted, remove from the heat, and allow to cool for 5 minutes. Holding the strawberry by the leaves dip the strawberry completely into the chocolate, right up to top, so just the green is left. Hold the strawberry up and allow the excess to drip off.
3 Carefully lay the strawberry down onto the parchment paper and allow to cool completely. Continue with all the strawberries.
3 Melt the white chocolate buttons in the same way. Once melted divide the chocolate into bowls and if using food colouring, colour the white chocolate with the different food colouring at this stage.
4 Pour the melted white chocolate into disposable piping bags. Snip a tiny hole in the end of the piping bag, and drizzle the chocolate over the strawberries. You could do lines, dots or zigzags and alternate colours and designs. If you don't have a piping bag, use a teaspoon to drizzle the chocolate over the strawberries.
5 Attach decorations (if using) while the white chocolate is still melted and tacky. Use any remaining white chocolate to coat some extra strawberries. Allow to set completely, then eat and enjoy the same day.
Prep Time
30 minutes
Cook Time
10 minutes
Nutrition Information
Makes 20
For exclusive competitions and amazing prizes visit Reveal's Facebook page NOW!
Check out more chocolate recipes in our gallery
Copyright: Martin Poole for Constable Books