We love this quirky recipe which would be a great one to make for Easter weekend - it's from the famous culinary institute Le Cordon Bleu and translates from the French (Œufs en cocotte au chocolat) as 'Chocolate Eggs.'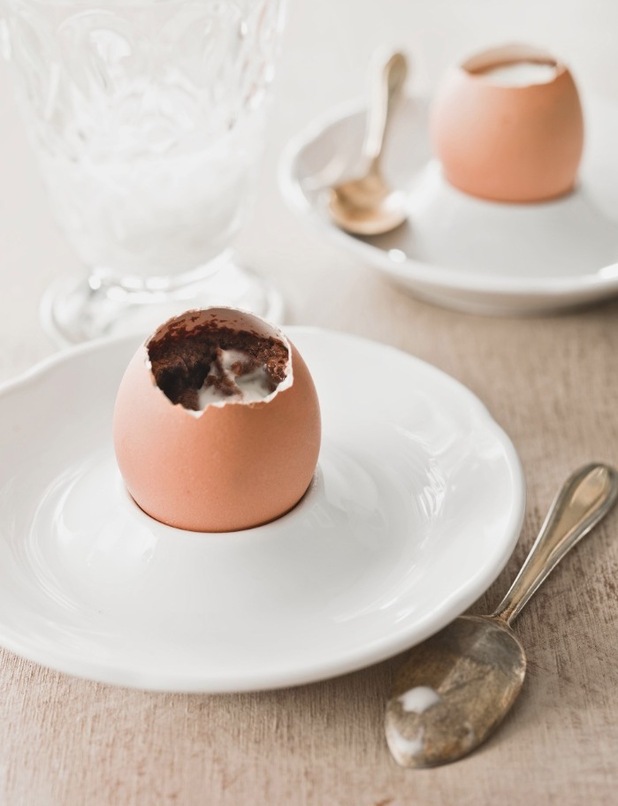 It's from Le Cordon Bleu's recipe book
The Chocolate Bible.
Did you know the famous culinary institute runs short courses, including a two and a half hour course on how to cook with chocolate? Find out more
here.
Ingredients
Chocolate Fondant
•115 g dark chocolate
•100 g unsalted butter
•115 g caster sugar
•25 ml Kirsch
Milk Cream
•2 leaves gelatine
•75 ml milk
•170 ml whipping cream
•25 g caster sugar
•½ vanilla pod, split
Method
This recipe must be started the day ahead. You will need a cardboard egg carton.
1 The day before: Using a knife, spoon or egg scissors, cut the tops off the eggs and empty the shells. Save 2 whole eggs and 1 egg yolk for the recipe. Save the remainder to use in another recipe. Rinse and carefully dry the eggshells; set aside overnight.
2 The next day, preheat the oven to 170°C (335°F).
3 To make the Chocolate Fondant: Chop the chocolate and melt with the unsalted butter over a bain-marie.
4 Put the 2 reserved whole eggs and single egg yolk, sugar and Kirsch into a bowl and whisk to combine; blend in the melted chocolate. Soak the carton in water to prevent it burning when it is in the oven. Place the eggshells upright in the egg carton.
5 Fill the shells with the chocolate fondant to come 3⁄4 up the sides. Transfer to the oven and cook in the carton for 8 minutes.
6 To make the Milk Cream: Soften the leaves of gelatine in cold water.
7 Put the milk, cream and sugar into a saucepan. Using the point of a knife, scrape the seeds from the vanilla pod into the milk mixture, add the pod; heat slowly until simmering.
8 Remove the heat, infuse for 10 minutes then strain the mixture into a bowl. Squeeze the excess water from the leaves of gelatine and stir into the cream to dissolve. Refrigerate for 30 minutes.
9 Place each chocolate egg in an egg cup; top with cold milk cream and serve.
Prep Time
Overnight + 1 hour
Cook Time
8 minutes & 30 minutes refrigeration time
Nutrition Information
Makes 12 eggs
CHEF'S TIP
: Make sure you clean the eggshells well; use cold running water.
For exclusive competitions and amazing prizes visit Reveal's Facebook page NOW!
Love chocolate? Check out our amazing gallery of recipes
Copyright: Martin Poole for Constable Books