Impress friends and family with this gorgeous recipe for herb-roasted leg of lamb.
Roasted in yummy herbs, dried apricots, almonds and walnuts, this delicious meal is bound to go down a treat, especially at a sunday lunch gathering.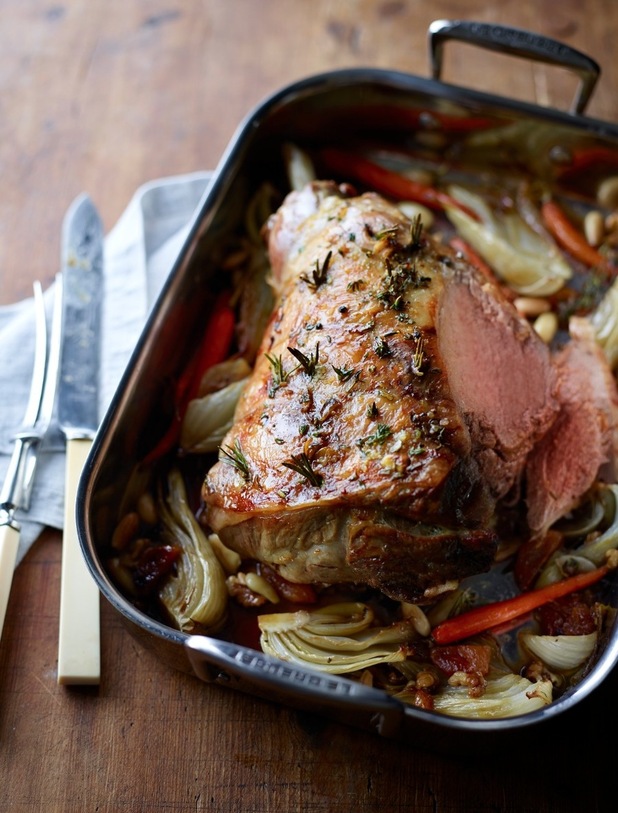 Serve with plenty of veggies and piping hot gravy for a delightful feast.
Ingredients
1 2 - 2.5kg leg of New Zealand lamb - can be chilled or thawed from frozen
4 cloves garlic, peeled and sliced
The leaves from a 15cm stalk of rosemary, chopped
2 tsp of fresh thyme leaves (or 1 teaspoon dried thyme)
2 tbsp Olive oil
4 heads of fennel, cut into 6 wedges each
2 bunches of baby carrots, skins scrubbed
10 dried apricots, halved
100g whole almonds
Method
1 Preheat oven 180˚C.
2 Place the lamb in a roasting dish and poke a thin small knife into the flesh in 12 places.
3 Mix the garlic, rosemary, thyme and olive oil with a little salt and pepper and poke this into all of the holes and rub the remainder over the leg.
4 Place in the centre of the oven and roast for 45 minutes. After 20 minutes, add 100ml water to prevent the garlic from burning.
5 Tip the fennel and carrots onto the lamb and turn the leg over then roast for 30 minutes.
6 Take the lamb from the dish, add the apricots, walnuts and almonds, then replace the lamb, again turned over, and put back in the oven.
7 It will be cooked medium (which is lovely for leg of lamb) in another 15 - 25 minutes depending on the size.
8 Remove the lamb from the roasting dish and sit on a plate loosely covered with foil and a tea towel, and rest in a warm place for at least 15 minutes.
9 Turn the oven off, put the roasting dish back in, and keep warm
Nutrition Information
Serves 6
Cook's tip:
Lamb will take approx 30 minutes per kilo, plus 15 minutes. Alternatively a temperature probe is very handy. Insert into the thickest part of the meat half way in. It should read 50-55˚C. Upon resting the temperature will rise to 60˚C. Perfect pink roast lamb!
If you like it a little more done, allow 1 hour and 25 minutes, or a reading of 65˚C. Always rest before carving.
Head here for more lamb recipes
More delish lamb recipes:
Copyright: Jack Daniels
Ginger and Soy Lamb
Lamb Kebabs With Yoghurt Kebabs
Mini Lamb Roast
Spicy Lamb and Mint Sauce Flatbreads
For exclusive competitions and amazing prizes visit Reveal's Facebook page NOW!