Since winning BBC tv's Masterchef in 2012 Shelina Permalloo has become one of our favourite chefs. And doesn't this recipe for her Long and Lazy One-pot chilli look amazing?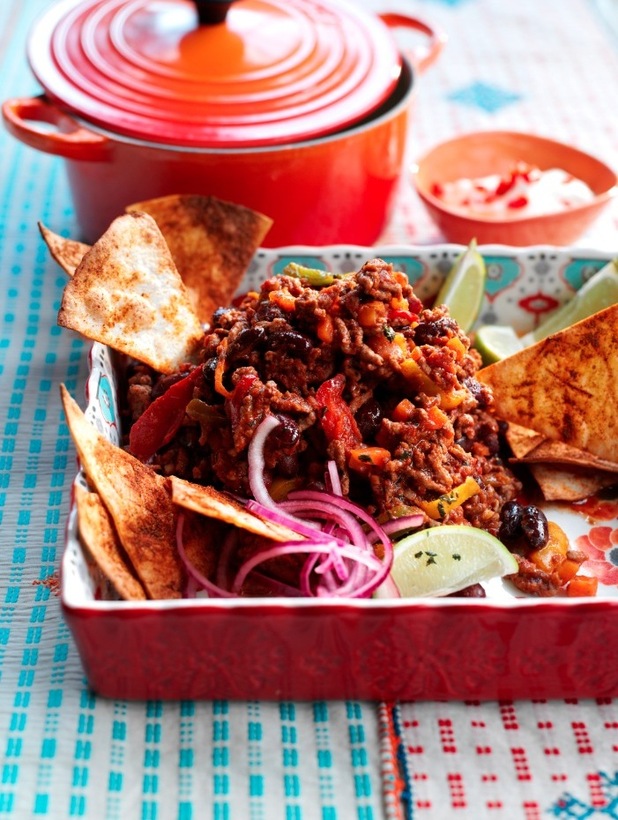 We were delighted to hear she's teamed up with
Sainsbury's
to create some amazing recipes aimed at encouraging us to cut down on food waste by using frozen ingredients.
This one-pot long and lazy chilli is a great weekend dish when you don't want to spend hours over the stove, yet want a great result. Shelina's tips to use red onions pickled in lime juice and to spice up tortillas are genius!
All frozen ingredients in this recipe can be used straight from the freezer except for the mince which needs to be thoroughly defrosted before use.
Ingredients
For the Chilli
1tbsp olive oil
500g beef mince
50g frozen chopped onion
1 large carrot, finely chopped
20g frozen garlic by Sainsbury's
1tsp frozen chopped chilli by Sainsbury's
1tsp hot chilli powder (add more if you like it really hot)
2 heaped tsp paprika
1tsp unrefined golden caster sugar
100g mixed frozen peppers
400g tin chopped tomatoes
400ml beef stock
400g tin cooked kidney beans, washed and drained
20g (or to taste) frozen coriander
Salt and pepper to taste
For the Nachos
4 flour tortillas
1-2tbsp olive oil
1tbsp dried ground cumin
1tbsp smoked paprika
For the garnish
Pickled red onions (slice red onions and leave to sit in lime juice for 3-5 minutes)
Low fat crème fraîche
Lime segments
Method
1 In a large casserole dish add the mince, onions, carrots and garlic and cook over a high heat until the mince begins to brown and the carrots begin to soften (approximately 10-15 minutes)
2 Add all of the other ingredients except the kidney beans and cook over a low to medium flame with the lid on for 1 hour, stirring occasionally. Once the hour is up, add the kidney beans and cook for a further 15 minutes
3 During this time, brush the tortillas with oil and sprinkle over the spices. Cut each tortilla into 8 triangles and bake in the oven for 10 minutes until the tortillas are brown and crispy
4 By this time the chilli should be ready. Simply stir in the frozen coriander and the amount of seasoning you prefer according to taste
5 Serve the chilli with the baked nachos straight from the oven
Prep Time
Preparation and cooking time: 1 hour 30 minutes
Nutrition Information
Serves 4-6
(per serving)
Kcals: 424
Fat (g): 18
Sat fat (g): 6.5
Protein (g): 25
Fibre (g): 7
Carbs (g): 40
Sugar (g): 7.5
Salt (g): 1.4
For exclusive competitions and amazing prizes visit Reveal's Facebook page NOW!
Like food with a kick? Check out our gallery of spicy dishes
Copyright: The Lake District Dairy Co. Quark