March 1 is the feast of St David's Day, the patron saint of Wales. And what better way to celebrate than this recipe for a Welsh gourmet burger, devised with the best welsh produce in mind?The Pontfadog Oak Burger
has been created by Max Payne, head chef of Cygnets Restuarant at
The Swan Inn
in Pontfadog, Wrexham.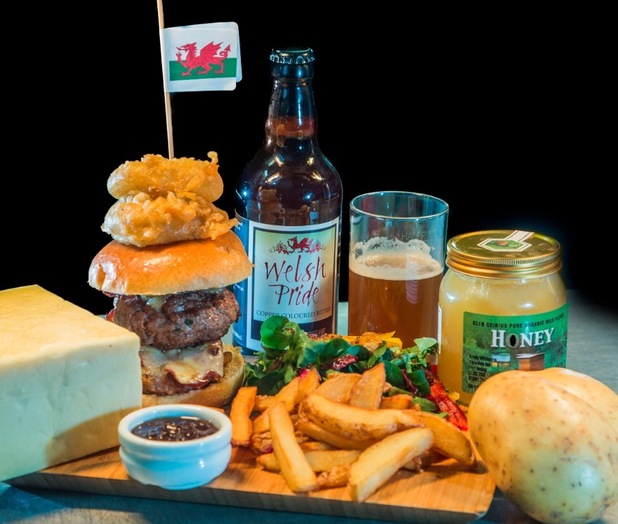 This recipe uses locally cured bacon, Welsh beef and local Bodnant Dairy Aberwen Cheddar.
Yum! Welsh flag is optional!
Ingredients
For 12 patties and 6 portions – two burgers in each bap
1.75kg Celtic Pride beef mince
1 large onion finely chopped
Handful chopped parsley
Handful chopped basil
4 tbsp burger relish
1 tsp Lea & Perrins Worcester sauce
Pinch of salt & pepper
Serve in brioche buns
To top the burgers:
12 rashers of Ceiriog trout farm oak smoked bacon
12 slices of Bodnant Aberwen cheese
SALAD DRESSING:
3 tbsp British Bee Company Welsh honey
3 tbsp whole grain mustard
3 tbsp balsamic vinegar.
ONION RINGS:
2 onions
1 bottle of Welsh Pride beer from Conwy Brewery (for the best taste)
500g plain flour
1 tbsp lemon juice
Method
1 To make the burger start off by frying the onions using 2 tbsp olive oil until they are soft. Leave onions to cool, whilst onions are cooling mix together the mince, parsley and basil. Once onions are cool, put into the mix along with burger relish and Lea & Perrins. Mix together very well.
2 Once burger mix is done, weigh out each burger at 6oz. You may be left with a small amount to use as a tester. Wrap all burgers in cling film and put them in the fridge for at least an hour.
3 Part-cook all the bacon for around 10 minutes in the oven at roughly 180 degrees.
4 To cook the burgers put a frying pan on to a high heat and leave the pan to get red hot, just like cooking a steak. Once pan is smoking put a little bit of oil in and place burgers in the pan, cook for 2 minutes each side then top with bacon and cheese. Place pan in the oven at 220 and cook for 12 minutes.
5 For salad dressing, place all ingredients in a food blender and mix until a thin consistency.
6 For the onion rings, mix the beer with the plain flour and whisk together in a jug until you get a relatively thick consistency. A splash of lemon juice gives the batter a great taste. Dip think slices of raw onion in the batter and fry in a deep fat fryer.
7 Serve with homemade chips with the skins on.
The Pontfadog Oak Burger was one of three burgers shortlisted in the Wrexham Burger Challenge. The winner was The Royal Oak Burger created by Martin Roberts from The Royal Oak restaurant in Bangor on Dee.