Nothing beats a good old roast on a Sunday and we have a really delicious recipe here for the perfect pork.
Simple, but bursting with flavour, this chunk of meat is cooked in sea salt, caraway seeds and chilli flakes. Once juicy and tender, it's served with baby potatoes and roasted fennel for a stunning weekend wonder.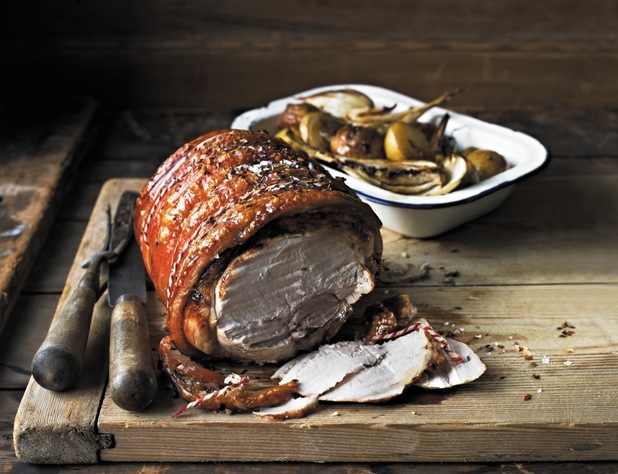 Ingredients
1.5 pork loins with fat scored
1 tablespoon sea salt
Lurpak Cooking Mist
1/2 tablespoon caraway seeds
1 teaspoon chilli flakes
2 bulbs of fennel cut into quarters
500g baby potatoes
Method
1
Pre-heat the oven to 240°C/220°C Fan/Gas Mark 9.
2
Place the pork on a chopping board; pat the skin dry with kitchen paper. Rub the sea salt into the fat pushing into the score marks. Place the pork loin skin side up in a roasting tin and mist generously with cooking mist.
3
Roast in the oven for 30 minutes at the same temperature. Then turn the oven down to 180°C/160 °C Fan/Gas Mark 4. Mix together the caraway seeds and chili flakes and scatter over the pork fat.
4
Mist the fennel and baby potatoes with cooking mist and place around the pork in the roasting dish and roast for a further 20 minutes per 500g pork.
5
Once cooked, wrap in foil and allow to rest for 10 minutes before carving. Spoon over the cooking juices and serve with the roasted fennel and baby potatoes.
Cook Time
90 minutes
Nutrition Information
Serves 6
More tasty roast ideas:
Crackling Chinese Pork Roast
Masala Chicken With Spuds
Zesty Lime and Coriander Roast Chicken
One-Pot Roast Chicken
For exclusive competitions and amazing prizes visit Reveal's Facebook page NOW!