There's nothing like a bit of steak and chips for a slap-up meal, which is why we are sharing this super recipe for Steak and Triple-Cooked Chips which has an interesting twist in that they are fried in duck fat!Sounds luxurious, yes - but easier to make than you'd think....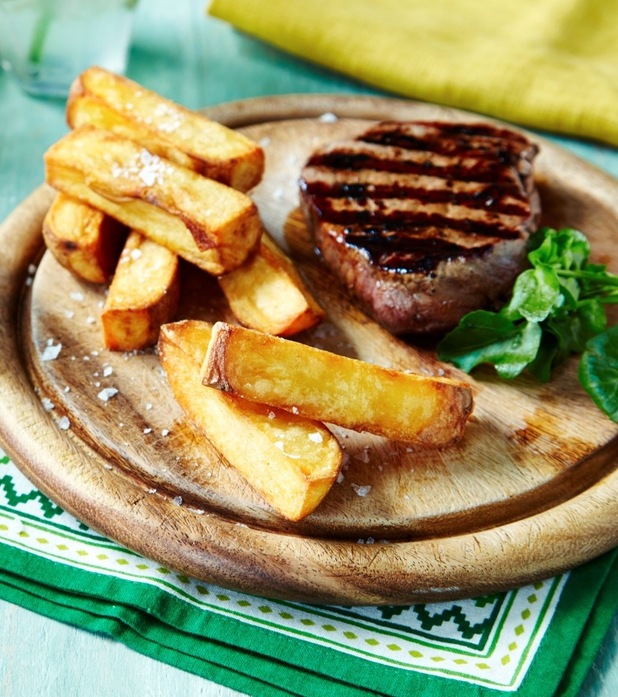 It's National Chip Week this week, so why not have a go?
Ingredients
2 Maris Piper potatoes, thickly chipped
150g fillet steak
300ml duck fat
1 tbsp butter
50g watercress
1 tbsp olive oil
Sea salt and ground black pepper
Method
1 In a large saucepan of cold water, bring the chips to the boil and then cook for 5 mins. Drain and cool, then freeze for 30 mins.
2 Take the steak out of the fridge to come to room temperature and season with salt and pepper. Fill a large saucepan one-third of the way up with duck fat and put on the heat. When the fat is sizzling, add the chips, in batches if needs be, frying for 4-5 mins, until golden. Drain on kitchen paper and allow to cool, then chill. Retain the fat in the saucepan.
3 Heat a griddle pan on a high heat or heat some oil in a frying pan. Add the fillet steaks, flat-side down, and turn over after 1 min for rare, 1½ mins for medium and 2 mins for well done. Repeat the cooking times for the other side then, seal completely by moving it around the pan. Transfer to a plate, place the butter on top and cover with tin foil to rest for 5 mins.
4 Reheat the fat in the saucepan until it is very hot and refry the chips for 5 mins, until fluffy and a dark golden colour. Drain on kitchen paper and transfer to the steak plate. Add the watercress, dressing it with the
Sarson's
malt vinegar and olive oil, then dress the chips with more vinegar and sea salt. Serve.
Cook Time
Ready in 30 mins, plus freezing and chilling
Nutrition Information
Serves 1
For exclusive competitions and amazing prizes visit Reveal's Facebook page NOW!