Masterchef 2012 winner Shelina Permalloo is one of our favourite cooks and we love this recipe of hers for Mexican-style corn chowder.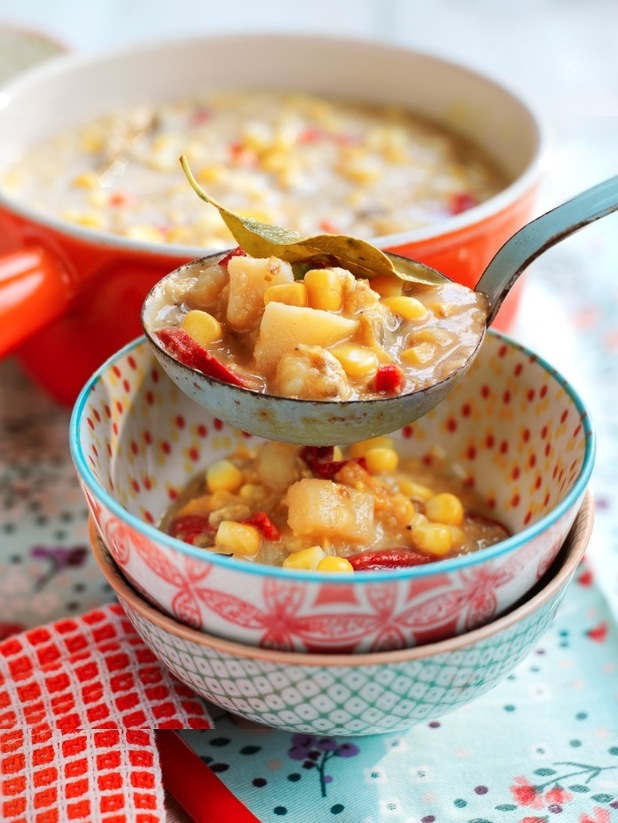 Shelina's devised it specially to take advantage of convenient frozen veg - and the garlic, peppers and sweetcorn in this recipe can all be used
straight from the freezer, with no need to defrost.
It couldn't be more convenient - or easy - to make and this is one recipe we'll be trying very, very, soon.
Ingredients
2tbsp olive oil
4 spring onions, finely chopped
15g frozen garlic by Sainsbury's
100g Sainsbury's mixed frozen peppers
1tsp cumin seeds
1tbsp crushed coriander seeds
1 chipotle chilli (pre-soaked in hot water for 15 minutes, drained and finely chopped)
A dash of Worcester sauce (1-2tsbp)
2 medium potatoes cut into 1inch cubes
800g frozen sweetcorn
A couple of bay leaves
400ml chicken stock (or vegetarian stock)
Salt & black pepper to taste
200ml semi-skimmed milk
Soured cream, fresh coriander and jalapeños for serving (optional)
Method
1. Place a large saucepan over a medium heat and add the olive oil, spring onions, garlic, pepper, spices, chilli, and bay leaves and cook for five minutes, until they have softened
2. Stir in the potatoes, half of the sweetcorn (400g), the stock, salt and Worcester sauce
3. Bring the mixture to a boil before reducing the heat to allow it to simmer for around 15 minutes
4. Whilst this is simmering, puree the remaining sweetcorn with the milk in a blender until smooth. If the mixture is too thick, add a little water to help loosen it
5. Stir the sweetcorn puree into the soup along with some black pepper and simmer for five to ten minutes, or until the soup thickens
6. Serve with soured cream, jalapeños or a garnish of your choice
Prep Time
Prep & cook time: 30 minutes
Nutrition Information
Serves 6 people as a starter or 4 as a main
Per single starter serving:
Kcals: 247
Fat (g): 7
Sat fat (g): 1
Protein (g): 10
Fibre (g): 4.5
Carbs (g): 36
Sugar (g): 6
Salt (g): 0.4
For exclusive competitions and amazing prizes visit Reveal's Facebook page NOW!
Check out more home made soup recipes in our gallery below
Copyright: Tenderstem