Comptoir Libanais translates as 'Lebanese Counter' and when you enter the branches this fast-growing chain of healthy eateries it's like being transported to the glamour of pre-war Lebanon.
They've kindly shared this delicious recipe for a Lebanese favourite - Fattoush - with Pomegranate Molasses Dressing. Full of superfoods and jewelled colours, it tastes as good as it looks - and is a great way of using up spare pita breads.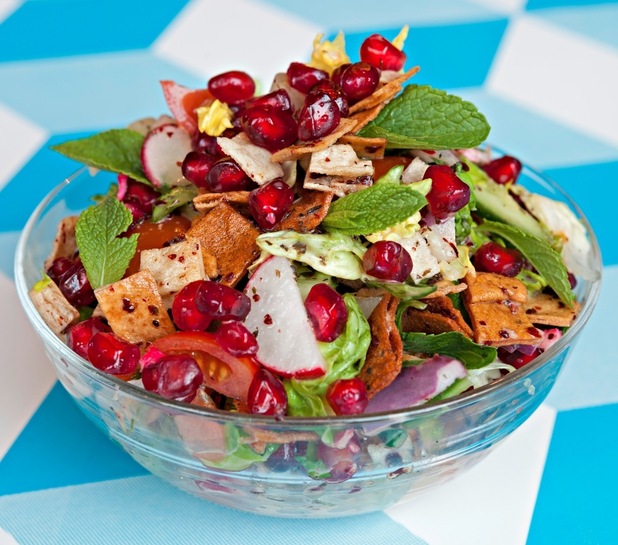 'Bread is a very special thing to me, a food I would never waste and I'm sure this comes from my upbringing,' says
Comptoir Libanais founder Tony Kitous.
'Whether it's served fresh in a basket or crisp and tossed into a simple salad like a crouton, it's the one food I could never live without. So the fattoush salad, perhaps the most famous of all Arabic salads, brings together bread and green freshness in a way that is always a delight.
'It couldn't be simpler, yet too often I've eaten it and wished I could get into the kitchen and make it for myself.
'The dressing I use mixes pomegranate molasses, a sharp, sweet syrup reminiscent of a sour treacle'.
Ingredients
For the salad
• 3 baby gem lettuce, chopped into bite-sized pieces
• 12 cherry tomatoes, halved
• 2 spring onions, chopped
• 1 small bunch of flat-leaf parsley, chopped
• 2 small cucumbers, diced
• 4–5 radishes, thinly sliced
• 1 pomegranate (optional)
• Salt
For the dressing
• 75ml pomegranate molasses
• 50ml cider vinegar
• 1tsp dried mint
• 2 tsp sumac
• juice of 1 lemon
• 125ml olive oil
• 1 clove garlic, mashed
• salt, to taste
For the sumac pitta croutons
• 2 pitta breads
• 2 tspsumac
• olive oil, plus more to finish
Method
1 Preheat the oven to 200°C/180°C fan/gas 6 and have a baking tray ready.
2 Slice the pita open, cut it into 1–2cm squares then spread these on the baking sheet. Pour over a little oil then sprinkle with a little sumac and toss the pitta squares so they're lightly coated. Bake in the oven for 15–20 minutes or until the pitta has crisped and started to brown. Remove from the oven and leave to cool, then transfer to a bowl.
3 For the salad, put the lettuce in a bowl with the herbs, tomatoes, spring onions and cucumber. Scatter over the radish slices and sprinkle with pomegranate seeds.
4 Make the dressing by whisking the ingredients together until smooth. Then add salt with extra lemon juice to taste: I like this dressing quite tart but play with the flavour to suit yourself.
5 To serve, simply pour about half the dressing on the salad with little salt, add a few handfuls of pitta croutons and toss everything together. Have the remainder of the dressing in a bowl on the table to serve alongside.
Nutrition Information
Serves 4-6
For exclusive competitions and amazing prizes visit Reveal's Facebook page NOW!
Check out more delicious salad recipes below.