Chinese-American culinary guru Ken Hom first taught Brits the basics of Chinese cuisine 30 years ago in his groundbreaking BBC TV show. And this is one of his classic recipes - for delicious Chinese Crackling Roast Pork.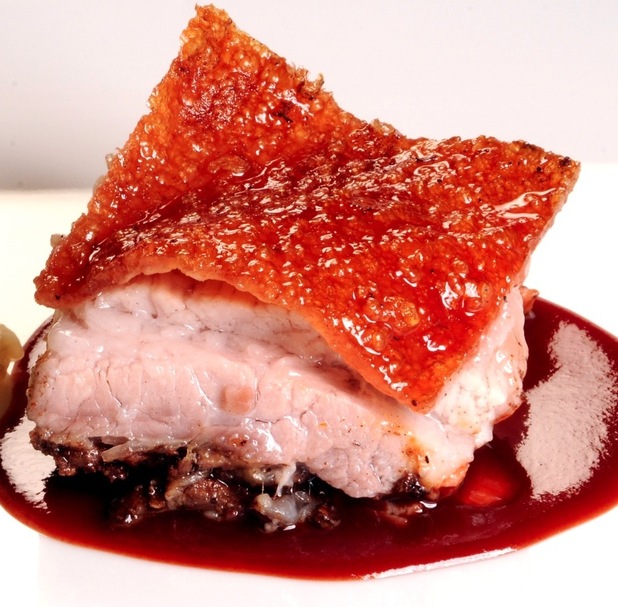 Ken has become a culinary legend, having written over 80 cookbooks and devised his own range of ready-made meals (in Tesco). Now he's even brought out his own mini booklet on Chinese New Year, complete with Chinese horoscopes which you can download at
kenhom.co.uk
This is a favourite dish of his: 'One of the most fascinating sights in Chinatowns all over the world are shops that have whole roast adult pigs as well as suckling pigs hanging in the windows.
'Their meats are delicious with rice or in stir-fried dishes. The secret to getting crispy skin is to blanch the skin and to let it dry with a technique similar to the one used for Peking Duck.
'Then the skin is slowly roasted so that most of the fat cooks off, leaving soft tender pork flesh marbled with velvety fat. No wonder, diners are addicted to this delicious dish after the first bite.
'Much of the work can be done ahead of time and is surprisingly easy to make.
Ingredients
1.5 kg (3 lb) Boneless pork belly, with rind
Marinade
2 tablespoon Coarse sea salt
1 tablespoon Ground roasted Sichuan peppercorns
2 teaspoons Five spice powder
1 teaspoon Freshly ground black pepper
2 teaspoons Sugar
Method
1 Pierce the rind side of pork with a sharp fork or knife until the skin is covered with fine holes.
2 Insert a meat hook into the meat to secure it.
3 Bring a pot of water to a boil, and using a large ladle, pour the hot water over the rind side of the pork several times. Set the pork belly aside.
4 Heat a wok until it is hot, then add the salt, peppercorns, five spice and sugar and stir-fry the mixture for 3 minutes until it is hot and well mixed. Allow the mixture to cool slightly.
5 When it is warm enough to handle, rub this mixture on the flesh side of the pork.
6 Hang the meat to dry for 8 hours or overnight in a cool place or in front of a fan.
7 Pre-heat the oven to gas mark 6, 400̊F (200̊C). Place the pork on a rack, rind side up over tray of water. Roast for 15 minutes.
8 Reduce the heat to gas mark 4, 350̊F (180̊C) and continue to roast for 2 hours and turn up to gas mark 8, 450̊F (230̊C) for 15 minutes. Remove and allow the pork to cool. Then carve it into bite-size pieces, arrange on a platter, and serve.
Prep Time
Minimum eight hours prep and marinading
Cook Time
Two hours' plus roasting time
Nutrition Information
Serves 4-6
Reveal is now on Google Plus! Join us here for the latest pictures, fashion and celebrity news!