If you're celebrating Chinese New Year and want something easy to cook, why not try this fab recipe for 10 minute salmon with spring onion from the maestro of Chinese cooking, Ken Hom?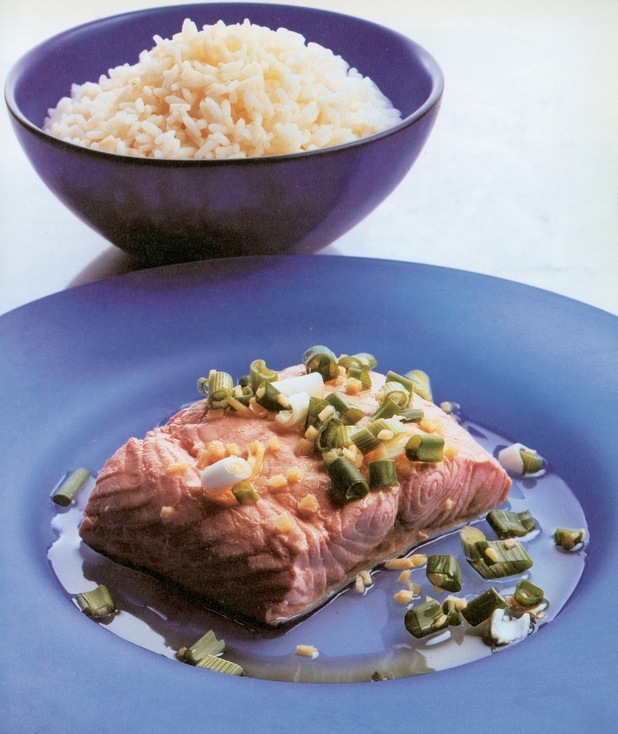 Ken is the chef who pioneered Chinese home cooking in this country and this recipe is from his book,
Ken Hom's 100 Easy Chinese Suppers.
In it he writes: 'We Chinese prefer no more than a few hours to elapse between the catching and cooking of fish. Indeed, in many markets in southern China and Hong Kong, fish are sold live.
'You can select the fish of your choice while it swims around in special glass tanks and then take it home or to a restaurant to be cooked.
'Serve this truly quick and elegant dish as part of a main course, accompanied by an easy vegetable dish and rice, or as a starter. Sea bass or plaice fillets can be substituted.'
Ingredients
450g (1lb) fresh Salmon fillets
2 tsp salt
½ tsp freshly ground white or black pepper
For the sauce
6 tbsp coarsely chopped spring onions
1 tbsp finely chopped fresh root ginger
1½ tbsp groundnut oil
2 tsp sesame oil
Method
1 Rub the salmon fillets with half the salt and the pepper.
2 Bring 600ml (1 pint) of water to a simmer in a frying pan. Add the salmon, simmer for 2–3 minutes, cover tightly and turn off the heat. Let stand for 8 minutes.
3 To make the sauce, combine the spring onions, ginger and remaining salt in a small bowl. In a small pan, combine the oils and heat to smoking point.
4 Remove the salmon from the water and place on a plate. Scatter over the spring onion mixture, then pour over the hot oils and serve.
Nutrition Information
Serves 4
Ken's tip:
Peeled fresh root ginger can be stored in a glass jar, covered in rice wine or sherry, and sealed. It will keep for several months, and has the added benefit of producing a flavoured wine that can be used in cooking.
Reveal is now on Google Plus! Join us here for the latest pictures, fashion and celebrity news!