Chinese New Year takes place this Thursday (19 February), and what better way to celebrate than tucking in to some authentic food?
This gorgeous recipe for beer-battered prawns comes courtesy from TV chef Ching-He Huang and is guaranteed to satisfy your taste buds.
Perfect for either a starter or main, these prawns are deep-fried until crisp and golden, before being served with a fruity sweet and sour sauce – yum!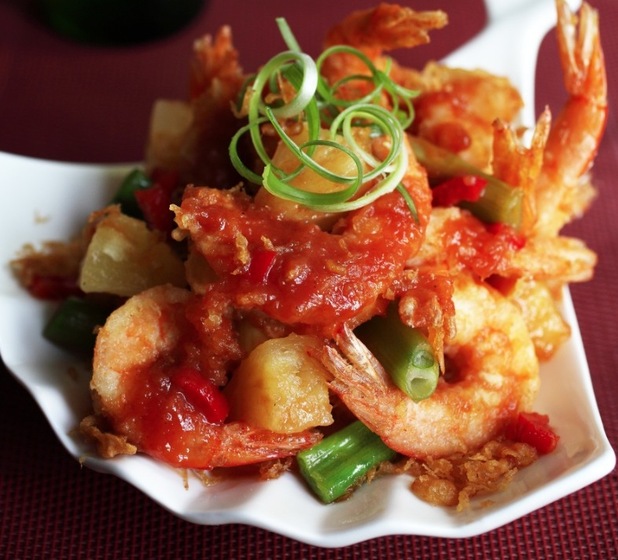 Ingredients
15 (200g) shelled deveined Tiger prawns, tail on
8 tablespoons corn flour
50ml Tsingtao beer
1 free range egg yolk
Pinch of sea salt and ground white pepper
½ red pepper, deseeded and diced into 1cm squares
2 spring onions, sliced into 2inch pieces
For the sweet and sour sauce:
1 tablespoon grated ginger
100ml vegetable stock
50ml Tsingtao beer
1 tablespoon clear rice vinegar
2 tablespoon runny honey
1 tablespoon soft brown sugar
1 tablespoon ketchup
1 small tin of pineapple chunks (or fresh)
2 tablespoons pineapple juice from the tin
Method
1
Into a bowl, add the beer, cornstarch and egg and mix together to make a batter. Season the batter with salt and ground white pepper.
2
Add all the sauce ingredients into a jug, mix well. Heat a small wok over high heat and add the sauce to the wok. Cook until the sweet and sour sauce is thick and sticky, keep on a very low heat and toss through the diced red pepper and spring onions.
3
Heat a wok over high heat to 180 degrees (to test the oil, drop in a small cube of bread and if it turns golden brown in 15 seconds you know it is ready).
4
Dip each prawn into the beer batter mixture and gently drop into the oil. Fry for two minutes until golden. Remove the prawns with a slotted spoon and drain any excess oil on absorbent kitchen paper.
5
Add the prawns to the sauce and toss together in the wok.
6
Garnish with some finely sliced spring onions and serve immediately with some cooked Jasmine rice or some gem lettuce leaves as an appetiser.
Prep Time
15 minutes
Cook Time
7 minutes
Nutrition Information
Serves 2 as a main or 4 to share
More gorgeous Chinese recipes:
Copyright: The Lake District Dairy Co. Quark
Chinese Wok-Fried Chicken With Ginger and Honey
Crispy Duck Recipe
Chinese Potato Cakes
Ken Hom's Sweet and Sour Chicken
Reveal is now on Google Plus! Join us here for the latest pictures, fashion and celebrity news!
Love spicy food? Check out more recipes with a kick in our gallery below.
Copyright: The Lake District Dairy Co. Quark