There's nothing quite like pancakes and with Shrove Tuesday just around the corner, we're on the hunt for the best toppings to accompany our sweet treats.
This sea-salted caramelised pecans recipe is one of our faves so far and is a more grown-up choice over the usual chocolate sauce and lemon and sugar options.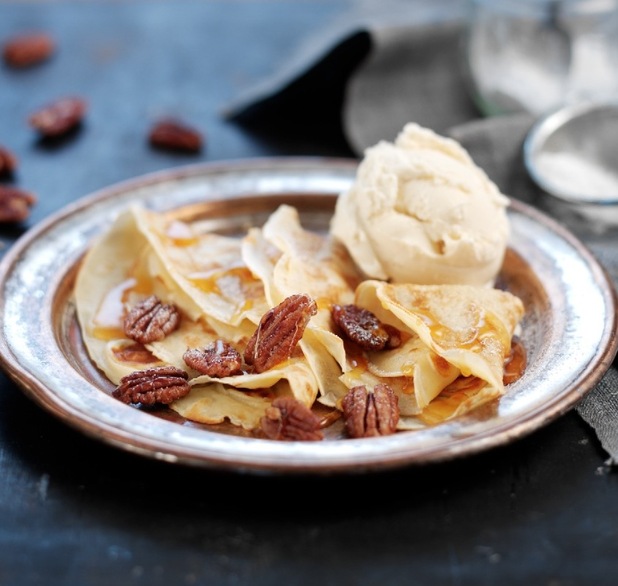 Proving that salted caramel is popular as ever, crunchy pecans are seasoned with sea salt and caramelised with sugar. Scatter over your pancakes and add a dollop of ice cream before digging in.
Ingredients
125g plain flour
Pinch of salt
2 medium eggs
250ml milk
Lurpak Cook's Range Cooking Mist
For the sea-salted caramelised pecans:
100g pecan halves
Lurpak Cook's Range Cooking Mist
1 teaspoon caster sugar
Generous pinch sea salt flakes
Vanilla ice cream, to serve
Method
strong>1 Sift the flour and salt into a large bowl. Add the eggs and milk and beat with a wire whisk to make a smooth batter.
2
Heat a small pancake pan or heavy-based frying pan and spray with Lurpak Cooking Mist.
3
Pour in a thin stream of batter, tilting the pan so that it flows evenly across the surface. Cook over a medium heat until set, then flip the pancake over to cook the other side.
4
Cook 8 small pancakes altogether, spraying the pan with cooking oil before making each one. Keep them in a warm place as you cook them, such as in a low oven.
5
To make the caramelised pecans, heat a frying pan and add the nuts, dry-frying them over a medium-high heat for about 1 minute to roast them, turning them with a wooden spoon.
6
Spray generously with cooking oil, then add the sugar and cook for 20-30 seconds, so that the sugar just begins to caramelise. Remove from the heat and sprinkle with the sea salt.
7
Serve the pancakes, topped with the pecans and scoops of ice cream.
Prep Time
15 minutes
Cook Time
20 minutes
Nutrition Information
Serves 4
Reveal is now on Google Plus! Join us here for the latest pictures, fashion and celebrity news!
Check out more fab pancake recipes - including a
low cal 68 calorie pancake ideal for weight watchers
- in our gallery
Copyright: David Loftus