If you're planning a romantic Valentine's day meal and are looking for an easy but effective recipe, check out these pretty Queen of Tarts.
They've been created by the
Good Housekeeping Institute,
and you can make them completely from scratch....
or do what we are going to do and cheat a bit by buying ready-made puff pastry!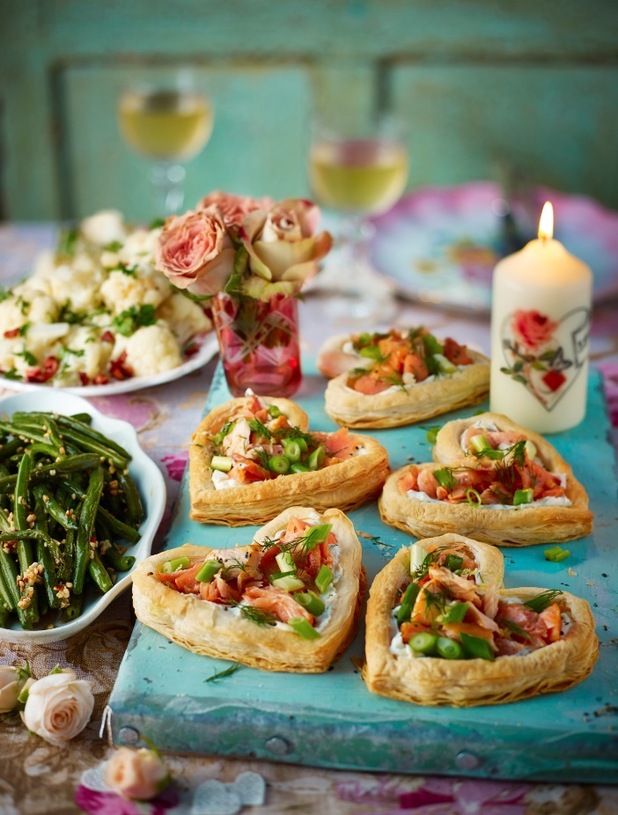 If you are brave enough to try making your own puff pasty, the recipe in full is here. And if you think your culinary skills could do with a bit of brushing up, or even just fancy leaning about new cuisines, why don't you check out the
Good Housekeeping Institute's website,
which tells you all about the amazing courses they run.
Ingredients
For the puff pastry:
225g (8oz) strong white bread flour
225g (8oz) butter, chilled
1tbsp lemon juice
For the filling:
300g (11oz) light cream cheese
Finely grated zest of 1 lemon
2tbsp fresh dill, finely chopped
200g (7oz) pack hot-smoked or smoked salmon, skinned and flaked
4 spring onions, finely sliced
Method
1. Sift the flour into a bowl with a pinch of salt. Dice 50g (2oz) of the butter. Flatten the rest into a 2.5cm (1in) thick slab.
2. Rub the diced butter into the flour. Then, using a knife, stir in the lemon juice and about 280ml (9½fl oz) cold water to make soft, elastic dough. Knead on a lightly floured surface until smooth. Cut a cross through half the depth.
3. Open out the 'flaps' and roll out the dough, keeping the centre four times as thick as the flaps.
4. Put the slab of butter in the centre and fold the flaps over it. Gently roll out to make a rectangle measuring 40.5 x 20.5cm (16 x 8in). Mark off three equal sections from top to bottom. Fold the bottom third of the pastry up over the middle, and the top third down. Wrap in clingfilm and chill for 30min (or freeze for 5-10min).
5. Repeat the rolling, resting and turning four more times, ensuring the folded edges are to the sides each time.
6. To make the tarts, preheat oven 200°C (180°C fan) mark 6. Unroll puff pastry and cut or stamp out six individual-sized heart shapes, about 9cm (3½in) diameter. Arrange hearts on baking sheets, spacing a little apart. Score a border 1cm (½in) from the edge of each heart. Use a fork to prick pastry well inside the border.
7. Bake pastry hearts until golden and risen – about 20-25min. Remove from oven and use the back of a spoon to press down the pastry carefully inside the border to make room for the filling. Cool completely, then tip/scrape out any loose crumbs from the cases (so they won't get into the filling).
8.To make filling, mix together cream cheese, most of the lemon zest and dill, and some seasoning (if mixture is too thick, loosen with a little milk). Spoon into cooled tarts, level gently, then top with the flaked salmon and spring onions. Scatter over the remaining lemon zest and dill, and some freshly grated black pepper. Serve.
Prep Time
15 minutes
Cook Time
25 mins
Nutrition Information
Serves 6
Check out more Valentine's Day recipes in our gallery below.
Copyright: Martin Poole for Constable Books