Lisa Roukin is one of our favourite healthy eating gurus and we're delighted to say she does a fabulous line in chocolate cakes, too.
Doesn't this Gluten-free Chocolate Banana Cake of hers look amazing?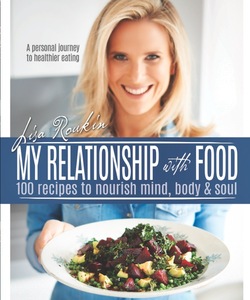 Lisa, whose recipe for
carrot & courgette soup
features elsewhere on this site, is a trained Le Cordon Bleu chef, who has also worked in top restaurants Le Caprice, Mirabelle and The Ivy.
She's kindly shared this second recipe from her new book,
My Relationship with Food: 100 recipes to nourish mind, body & soul
, which is out now, £25.
In it, she documents her long battle with her weight - from being an overweight child to a thin teenager with an eating disorder - until, thanks to her acquired culinary knowledge, she learnt to manage her relationship with food.
You can find out more about Lisa - and check out more of her delicious healthy recipes at
myrelationshipwithfood.com.
Ingredients
1 tsp espresso coffee powder
1 tsp boiling water

4 large eggs, beaten

175g coconut sugar
1 tsp vanilla bean paste
100g fine cornmeal

150g dark chocolate, melted
2 ripe bananas, mashed
chocolate covering
200g dark chocolate melted
50g coconut oil

250ml soya single cream
80g banana chips, crushed
50g dark chocolate shavings
Method
1 Preheat the oven to 310°F, gas mark 3, 160°C (140°C fan-assisted).
2 Rub some oil on 2 x 20cm (8inch) round cake tins, and line the base with parchment paper.
3 Dissolve the espresso with the boiling water, set aside. Melt the chocolate in a glass bowl over hot simmering water. Then set aside to cool. Beat the eggs and coconut sugar with a electric beater until light and fluffy. Add the vanilla bean paste and coffee mixture. Gradually add the fine cornmeal to the egg mixture.
4 When the chocolate has cooled, add the mashed bananas. Fold the chocolate and mashed bananas into the egg mixture until combined. Divide the mixture between the two cake tins and bake on the middle shelf for 30 minutes. Remove from the oven and leave to cool in the tins for 10 minutes, then turn out onto a wire rack to cool, then either cover tightly with foil or continue to decorate.
5 To make the icing, melt the chocolate as above, then slightly cool and stir in the coconut oil and then the cream.
To assemble the chocolate covering, place one half of the cake on your serving platter. Using a palette knife, spread a layer of the chocolate icing on the cake, then sandwich together.
6 Cover the sides and top of the cake with the icing carefully with a warmed palette knife. Fill in any gaps. The sides/top should be straight and even. Scatter the crushed banana chips around the sides of the cake and decorate the top with chocolate shavings.
7 Allow the cake to sit at room temperature, covered by a cake dome or a large glass bowl, for at least two hours before serving. The flavours will improve and get better with time.
Prep Time
30 minutes
Cook Time
30 minutes PLUS 30 minutes to decorate the cake
Nutrition Information
Serves 12
LISA'S TIP
'This is a lovely, moist cake, which is sometimes hard to achieve with gluten-free flour! When you pull the cake out of the oven, it will look like it's not done in the centre. Don't worry, that's correct!'
Reveal is now on Google Plus! Join us here for the latest pictures, fashion and celebrity news!
Check out more gluten-free recipes in our gallery below
Copyright: Lurpak