We all know that eggs are a nutritious and essential part of our diet, but sometimes it can be tough to think up of new ways to enjoy them. Thanks to Lucy Meck and chef Paul Merrett, we have a fabulous recipe here for a Vietnamese prawn omelette wrap.
Giving your omelette an extra kick, it piles in loads of yummy and exciting ingredients like soya beans, ginger and chilli. There's also a good dosage of eggs and prawn, that'll boost your protein levels.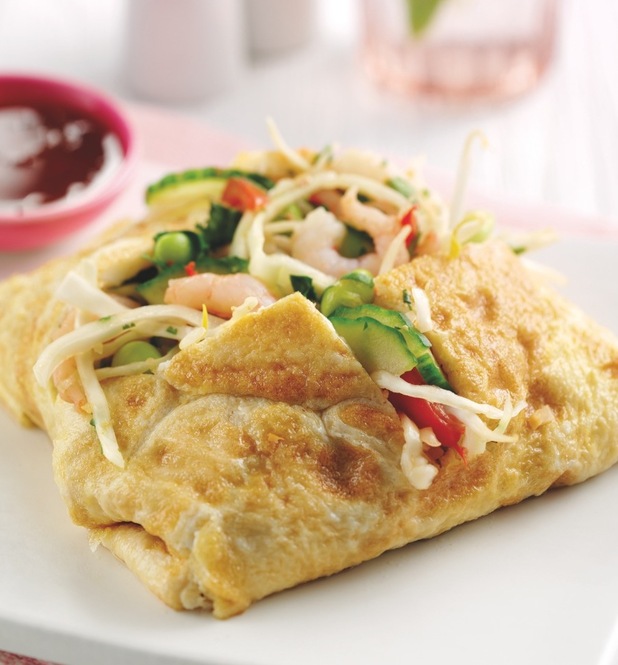 Serve this beauty up for a gorgeous lunch or light supper!
Ingredients
2 British Lion eggs
3 tablespoons frozen soya beans, thawed
50g peeled prawns
25g beansprouts
10g pickled ginger, chopped
1⁄2 tablespoon peanuts, unsalted
1⁄4 cucumber
1⁄2 tomato
Small handful of finely shredded white cabbage
1 tablespoon fresh coriander, chopped
1⁄2lime
2 teaspoons fish sauce
2 tablespoons sweet chilli sauce
Method
1
Put the soya beans, prawns, beansprouts and pickled ginger in a bowl.
2
Separately cut the piece of cucumber in half lengthways and remove the seeds using a spoon then cut the cucumber into thin crescents and add to the other ingredients.
3
Cut the halved tomato into 6 wedges and add these to the bowl, then add the cabbage and coriander.
4
Heat a small frying pan and lightly roast the peanuts – don't add any oil. They will start to turn a golden brown and at this point turn off the heat and allow them to cool down. Lightly chop them and add to the salad ingredients.
5
Squeeze over the lime juice and add the fish sauce and sweet chilli sauce. Mix everything really well.
6
Crack the eggs into a bowl and whisk lightly. Heat a large non-stick frying pan and pour in the eggs. Tip the pan slightly so that the egg covers the entire surface area of the pan in one thin layer – you are making a large, round, flat omelette about the thickness of a pancake.
7
When the eggs are set slide the omelette out onto a chopping board.
8
Take a good handful of the salad and give it a squeeze to remove the excess dressing - place in a ball in the centre of the omelette. Fold the omelette over the salad creating a square tight parcel. Flip the parcel over and cut an X in the top so that you can open up the omelette to see the salad.
Prep Time
10 minutes
Cook Time
4 minutes
Nutrition Information
Serves 1
More great ways with eggs:
Pad Thai Omelette
Avocado Eggs Benedict
Masala Scrambled Eggs
Devilled Eggs
Reveal is now on Google Plus! Join us here for the latest pictures, fashion and celebrity news!
Check out more recipes in our gallery below