Can you believe this delicious-looking Chilli-spiced Chicken Burger is just 150 calories?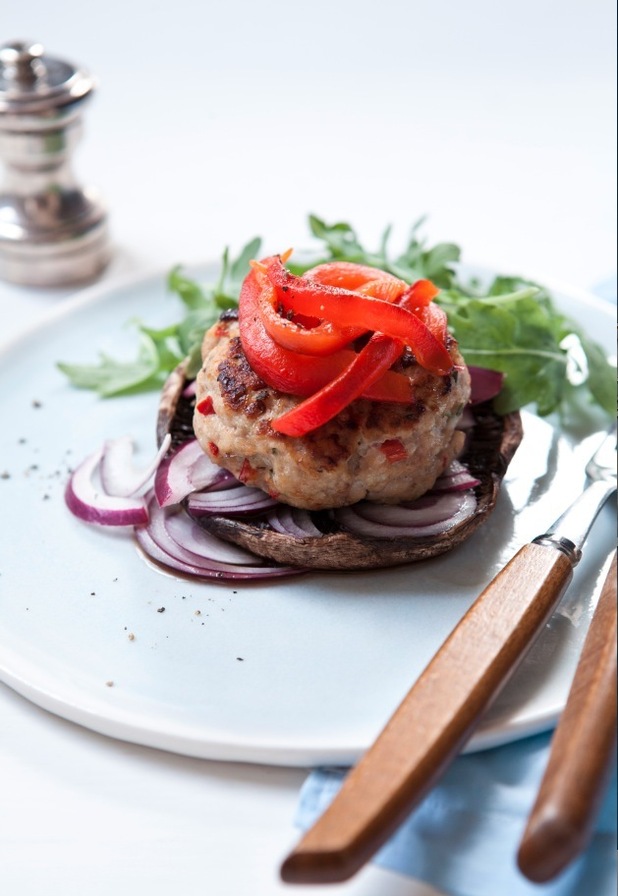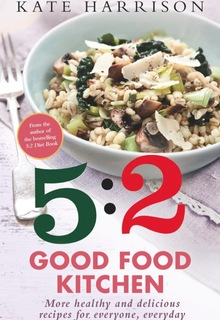 It's just one of many fabulous recipes in Kate Harrison's new book,
The 5:2 Good Food Kitchen,
out now. By clever food substitutions and a lot of culinary pizzazz it shows that you don't have to deprive yourself too much on your 5:2 'fasting' days.
If you've already checked out Kate's amazing
193 calorie Eggs 'Benefit' recipe,
you'll know that she's got the art of low-calorie eating sussed.
She says "This could be the 'surely too good to be true' burger: low carb, gluten free, nut free – and it tastes brilliant.
"The only downside is that it has a tendency to disappear within seconds of being made, which happened at our photoshoot (you have been warned).
"
But, with such a low calorie count, you could always make two!'
Ingredients
½ red pepper, halved and deseeded
¼ red onion, sliced
1 tsp red wine vinegar
1 skinless, boneless chicken thigh, roughly chopped
1 shallot, finely chopped
½ red chilli, finely chopped
leaves picked from 2 sprigs of thyme
1 Portobello mushroom
1 handful of rocket
Pinch of salt and pepper
Method
1 Preheat the grill to hot. Put the pepper on a baking sheet, skin-side up, and grill until the skin has blackened and blistered. Meanwhile, place the red onion slices into another bowl with a pinch of salt, pour over the vinegar and set aside to marinate.
2 When the pepper is done, remove it from the heat and place in a bowl. Cover, and set aside to allow the steam to loosen the skins. Peel away and discard the skin and stalk, then slice thinly and put in a bowl with the juices.
3 Put the chicken, shallot, chilli and thyme into a food processor. Season well, then pulse until the chicken is finely minced. Scoop out the mixture and shape it into a burger. Make sure it's not too thick or it won't cook all the way through.
4 Place a non-stick frying pan over a medium heat and spray with the one-calorie cooking spray. Cook the burger for 5 mins each side, or until cooked through. To test, pierce the middle with a skewer. If the juices that run out are clear and not pink, the chicken's done. Set aside to rest.
5 Put the Portobello mushroom into the pan and cook for 1-2 mins, or until heated through. Transfer to a plate, spoon on the marinated red onion and put the burger on top, followed by the pepper, rocket and any juices.
Prep Time
10 minutes
Cook Time
15 minutes
Nutrition Information
Serves one.
Cals per serving: 150
Gluten-free, nut-free, low carb
Dieting? Check out our lower calories recipes in the gallery below
Copyright: www.manyfacesofpotatoes.co.uk