Korean food is set to be big for 2015 and if you want to get ahead of the culinary craze, then we have a super easy recipe for BBQ Kalbi.
Kalbi refers to grilled meat dishes and this particular recipe involves cooking ribs in a tasty marinade of garlic, pear, ginger and soy sauce. Served with fresh salad and rice, it's a great dish for first-time Korean tasters and you'll be blown away with its sensational flavours.
The recipe comes courtesy of Korean chef Judy Joo, who previously cooked with the likes of Gordon Ramsay. Judy stars in her own show,
Korean Food Made Simple
, where she travels to South Korea before cooking up simple Korean recipes from her kitchen.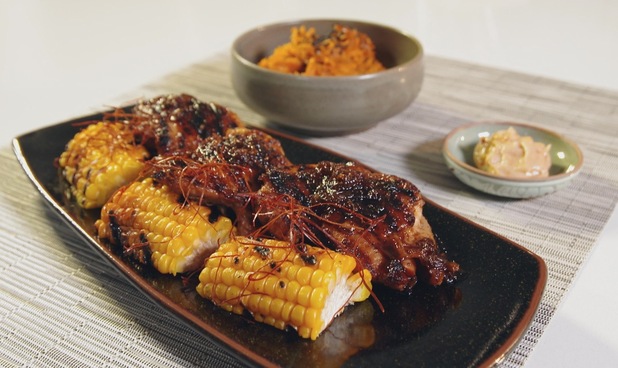 Ingredients
For the kalbi:
1 pound Korean short ribs, LA- or flanken-cut, or a rib-eye steak, trimmed and cut thinly into ¼-inch/½-centimeter thick slices
2 pears, use a semi hard sweet variety like conference or barlette, or 1 Asian pear, peeled and grated on a box grater
3 cloves garlic, grated
3½ tablespoons dark brown sugar
4 tablespoons soy sauce
2½ tablespoons roasted sesame oil
2 teaspoons grated ginger
7-8 grinds of black pepper
good pinch of sea salt or kosher salt
For the ssam jang sauce:
1 spring onion or scallion, finely chopped
1 clove garlic, grated
4½ tablespoons (70 grams) Korean fermented soy bean paste (dwengjang)
3 tablespoons roasted sesame seeds
2 tablespoons (40 grams) Korean chili paste (gochujang)
2 tablespoons mirin
1½ teaspoons roasted sesame oil
Serve with:
Cooked medium-grain white rice
Green leaf lettuce leaves
Sesame leaves (optional)
Ssam jang sauce
Method
1
Place the beef into a large re-sealable plastic bag. Add all of the other ingredients and massage into the meat well. Chill and let marinate for at least 2 hours or up to overnight.
2
If you're making the ssam jang sauce, make this up before cooking the kalbi. Simply mix all of the ingredients together and put in a small bowl ready for serving.
3
Heat up a grill or griddle pan until very hot. Shake off any excess marinade from the meat and grill the beef strips until desired doneness, for rare about 30 seconds each side.
4
Serve immediately with white sticky rice, green leaf lettuce, sesame leaves (optional) ssam jang sauce (recipe follows). Place a small scoop of rice, a smear of ssam jang sauce and a piece of beef into a lettuce leaf. Wrap and enjoy.
Prep Time
20 minutes (plus 2 hours marinating time)
Cook Time
5 minutes
Nutrition Information
Serves 2
Korean Food Made Simple airs on Food Network on 26 January, 6.30pmLove Asian food? Check out these great recipes:
Fish Tempura With Spiced Potato Wedges
Vietnamese Chicken and Broccoli Noodle Soup
Authentic Thai Green Curry
Asian-Style Marinated Salmon With Rice Noodle Salad
Reveal is now on Google Plus! Join us here for the latest pictures, fashion and celebrity news!
Like spicy food? Check out our gallery of recipes below.