Get a nutrient boost with this gorgeous breakfast recipe which is just divine to start the day with.We love the combo of fresh Florida Pink Grapefruit and raspberries with home made granola and manuka honey-flavoured low fat natural yogurt.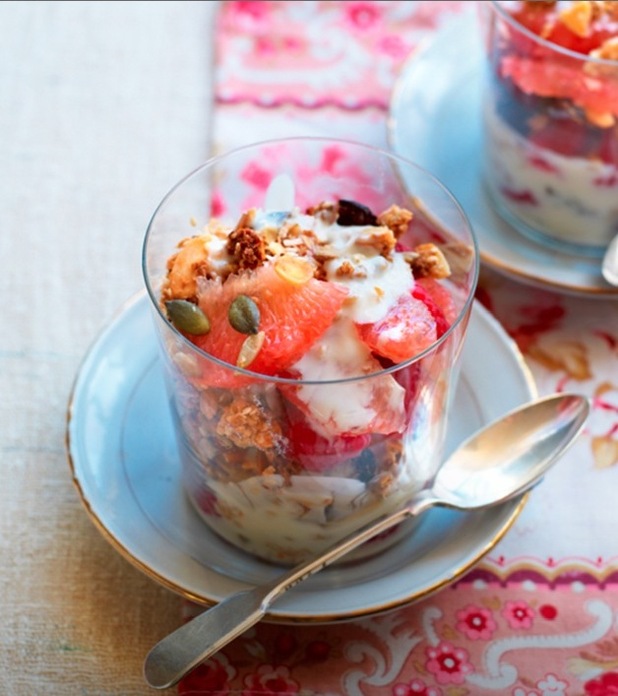 It's a real feast to brighten up winter mornings. Why not try it as a weekend brunch treat to share with family and friends?
Ingredients
GRANOLA
2 tbsp vegetable oil
125mls maple syrup
2 tbsp runny honey
1 tsp vanilla extract
250g rolled oats
50g sunflower seeds
4 tbsp sesame seeds
50g pumpkin seeds
100g flaked almonds
25g dried cranberries
25g dried cherries
50g chopped figs and apricots
50g coconut flakes
TOPPING
1 Florida pink grapefruit
1 punnet raspberries
150g natural, low-fat
yoghurt
2 tbsp manuka honey
Method
GRANOLA
1 Preheat the oven to 160C.
2 Make the granola by combining the maple syrup, honey, vanilla extract and vegetable oil in a big bowl. Add in the rolled oats, all the seeds and nuts. Combine well and lay evenly onto a big non stick tray or a tray that has been lined with non stick parchment.
3 Bake the granola for 15mins before removing from the oven and mixing in the remaining berries and flaked coconut.
4 Bake for a further 15mins before removing from the oven and leaving to cool. This will last for a month in an airtight container.
TOPPING
1 To give the granola a bit of a twist, mix the Greek yoghurt with the Manuka honey.
2 Divide a Florida pink grapefruit and lay in the bottom of a glass. Scatter over a few raspberries before sprinkling over some granola and a spoonful of the honey flavored yoghurt.
3 Repeat the process a couple of times to create some layers.
Prep Time
25 minutes
Cook Time
30 minutes
Nutrition Information
Serves 8
Reveal is now on Google Plus! Join us here for the latest pictures, fashion and celebrity news!
Check out more delish breakfast and brunch recipes in our gallery below
Copyright: Farmhouse Breakfast Week