For many, January means ditching the naughty stuff and shifting those Christmas pounds, but it doesn't all have to be celery sticks and kale.
This gorgeous recipe for marmalade sponge pudding is perfect when you're craving something sweet. It uses marmalade with half the usual amount of suagr in it and is just 144 calories per 100grams. Meaning you can tuck into a treat without having to worry too much about watching the cals!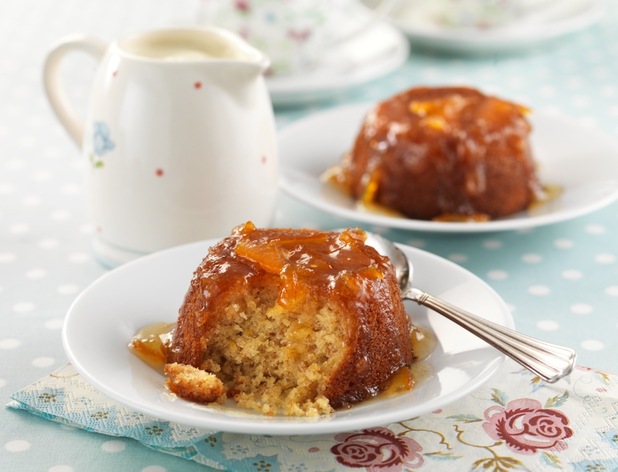 Ingredients
For the sponges:
100g butter
50g light soft brown sugar
2 eggs, beaten
75g self raising flour
50g wholemeal self raising flour
1 satsuma, segmented
100g Duerr's Half Sugar Marmalade
For the topping:
100g Duerr's Half Sugar Marmalade
50ml orange juice
Method
1
Pre-heat the oven to 190ºC/170ºC fan/Gas 5.
2
Grease 4 small glass or ceramic pudding basins (about 11cm diameter) with butter.
3
Place the butter, sugar, eggs, flours and satsuma into a food processor and blend for a minute until well mixed. Add the marmalade and mix again very briefly, just until the marmalade is blended through.
4
Divide the mixture between the pudding basins and place on a baking tray. Cook for 30 minutes until a skewer comes out clean.
5
Set aside for a few minutes while you make the glaze. Heat the marmalade and orange juice in a pan or in the microwave and stir until dissolved.
6
Carefully turn the puddings out onto serving plates and spoon over the sauce, serve with vanilla ice cream or custard.
Prep Time
10 minutes
Cook Time
30 minutes
Nutrition Information
Serves 4
More low-fat recipes:
Turkey Caesar Salad
Lower Fat Carrot Cake
Kale and Pineapple Detox Smoothie
Lighter Recipe For Potato Dauphinoise
Reveal is now on Google Plus! Join us here for the latest pictures, fashion and celebrity news!