Chocolate fans will adore these stunning truffle fondants that are a great little pudding to serve over the Christmas period.
Containing real chocolate truffles, these beautiful treats are easy to whip up and are fast becoming our go-to indulgence. Yum!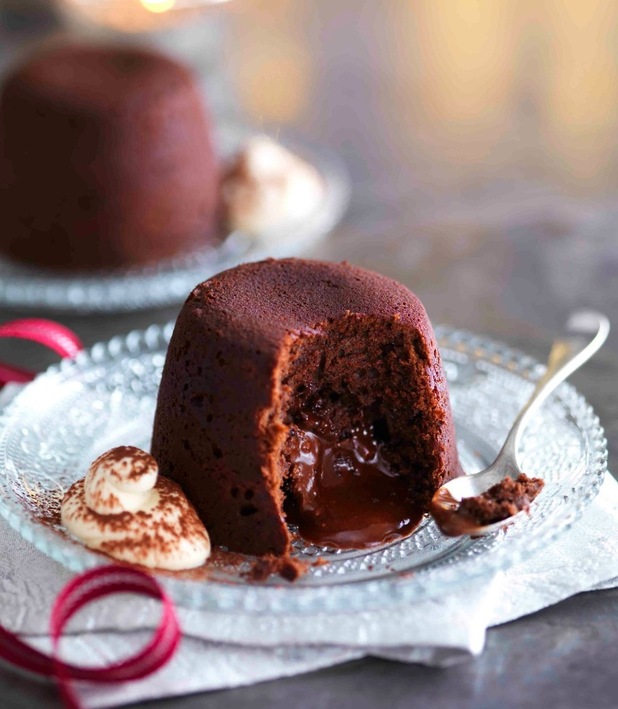 Ingredients
50g melted butter, for brushing
Cocoa powder, for dusting
200g Asda Extra Special 70% Fairtrade Organic Dominican Republic Dark Chocolate, chopped into small pieces
200g butter, cubed
4 eggs and 4 yolks
200g caster sugar
200g plain flour
9 Extra Special Italian chocolate truffles
Method
1
Use the butter to brush the insides of nine x 150ml dariole moulds. Sift cocoa powder into each mould and shake so the inside is lightly dusted. Tap out any excess and put the moulds in the freezer.
2
Put the butter and chocolate in a medium heatproof bowl. Bring a pan of water to the boil, then take off the heat. Put the bowl over the steaming pan, making sure the bottom of the bowl isn't touching the water. Set aside for the butter and chocolate to melt, stirring occasionally.
3
Put the eggs, egg yolks and sugar in a large bowl. Whisk using a hand-held electric whisk until thick and mousse-like.
4
Sift the flour into the egg mixture. Carefully fold in using a large metal spoon. Then fold in the melted chocolate mixture.
5
Fill each of the chilled moulds half way. Put a chocolate truffle in the centre. Divide the remaining mixture between the moulds, filling them to 1cm from the top. The fondants can now be frozen for up to a month and cooked from frozen. Refrigerate for at least 30mins, or up to 24hr. To bake from frozen, simply add 5mins to the cooking time.
6
Preheat oven to 200C/180C Fan/Gas 6. Put the fondants on a baking tray. Cook for 12-15mins. Remove the spare fondant after 12mins to test – it should be well risen and set on the outside, but still molten in the middle. When they're ready, take the remaining puddings out of the oven. Leave to stand for 1-2mins. Remove from the moulds, inverting them onto plates. Serve immediately.
Prep Time
20 minutes
Cook Time
12 - 15 minutes
Nutrition Information
Makes 8 and 1 tester
More festive recipes:
Copyright: Seasonal Berries
Reveal is now on Google Plus! Join us here for the latest pictures, fashion and celebrity news!