So the big day is over and you've got HEAPS of leftovers. Here's the perfect solution - make this absolutely yummy recipe for this Toasted Turkey Sandwich.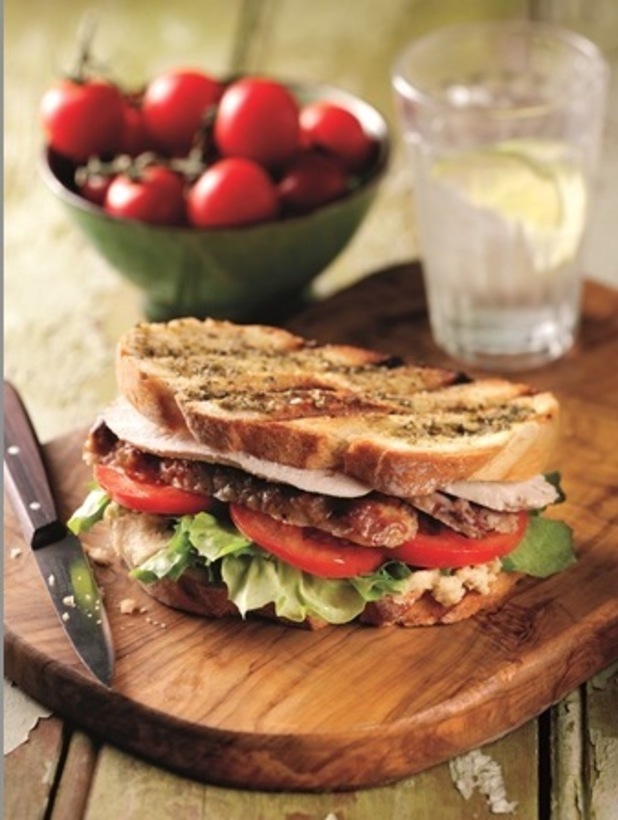 Doesn't it look good?
Ingredients
75g (3oz) leftover honey roast parsnips
1-2 tbsp Hellman's mayonnaise with chilli or caramelised onion
2 slices thick crusty bread
Large knob butter
1/2 Knorr mixed herb flavour pot
2 round lettuce leaves, trimmed
3 slices tomato
2 slices turkey
1 thick slice cooked stuffing or 1 stuffing ball crumbled
Method
1 Mash the parsnips with the mayonnaise until thick and smooth and set aside.
2 Spread the butter thinly on both sides of the bread. Spread the Knorr herb pot onto one side of each slice of bread. Heat a chargrill pan until hot and smoking and chargrill the bread on both sides until golden. This should only take about 30-40 seconds on each side.
3 Spread one slice of toast thickly with the parsnip puree. Arrange the lettuce, tomato, stuffing and turkey over the top and cover with the remaining toast. Serve immediately with extra mayonnaise on the side.
Prep Time
10 minutes
Cook Time
2-3 minutes
Nutrition Information
Makes one
Cook's tip:
Try spreading a thin layer of Cranberry sauce over the turkey for that beautiful sweet christmas flavour that goes so well with turkey. Halved chipolata sausages can be used instead of stuffing if liked. You can zap your turkey and stuffing in the microwave for a minute or two for a warm turkey filling.
Check out more festive recipes in our gallery