Catering for everyone's different needs is never easy at Christmas. So check out this delicious gluten free cranberry and apricot stuffing the whole family will enjoy.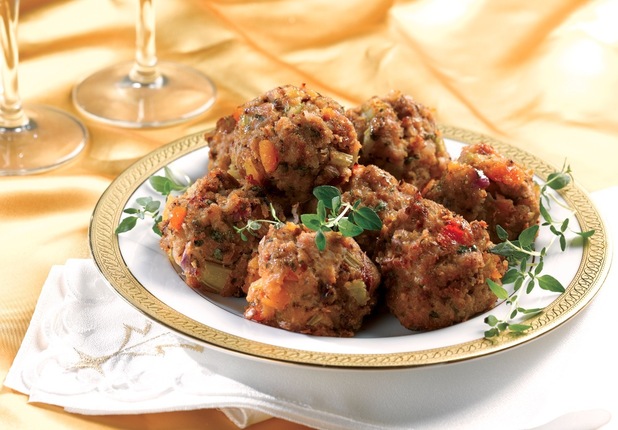 This is an ideal accompaniment to Christmas lunch or any Sunday roast.
Ingredients
115g DS-gluten free Wholesome White Sliced Loaf (or the Seeded Sliced Loaf or Brown Ciabatta Rolls from the range will work as well)
15g Butter
1 Small onion, chopped
1 stick of Celery, chopped into small pieces
2tbsp (2 x 5mlsp) fresh chopped Parsley, or 2tsp (5mlsp) dried Parsley
25g (1oz) ready to eat Apricot, cut into small pieces
50ml Orange Juice, fresh
2tbsp Cranberry Sauce, gluten free
25g Walnuts, (1oz) or pine kernels chopped (optional)
Seasoning
Method
1. Crumble the bread (the crust can also be used) or place in a food processor until it resembles breadcrumbs.
2. Place breadcrumbs in a bowl.
3. Melt the butter and fry the onion and celery until soft and very lightly browned. Add to the breadcrumbs.
4. Mix in the parsley, apricots and nuts (if using) and seasoning. Pour in the orange juice and stir in the cranberry sauce.
5. Bind the mixture together and use either for stuffing the neck of a chicken or turkey, or make into 8 - 10 stuffing balls and cook at 190°C/170°CFan/ Gas Mark 5 for 20 minutes. Alternatively place mixture in an ovenproof dish and cook at the same temperature for 35-40 minutes
Prep Time
12-15 minutes
Cook Time
20 minutes for stuffing balls, 35 minutes in a loaf tin
Check out more gluten free recipes in our gallery.