Get into the Christmas spirit by baking these easy to make orange star biscuits with marzipan. Aren't they cute?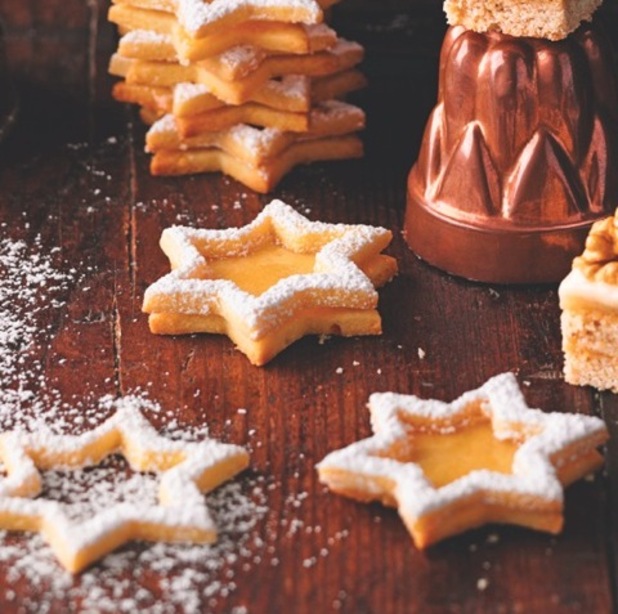 They're from Germany, the world's
marzipan capital.
Just the treat for a traditional Christmas Eve.
Ingredients
For the dough:
250g sifted all-purpose flour
100g marzipan
70g sugar
1 tablespoon Orange jam
1 tablespoon Orange blossom (available online and in delis or big supermarkets)
Peel of 1 orange
2 egg yolks
150g butter
For decoration
2 tablespoons Orange jam
2 tablespoons Orange blossom water
1 tablespoon Sugar
3 tablespoons Icing sugar
Method
1. Mix all the ingredients for the dough in a bowl until smooth. Put the dough in cling film wrap and cool it down in a fridge for six hours.
2. Preheat oven to 356 degrees F (180 degrees C). On a lightly floured surface, roll the dough out to 4 mm thickness. Cut into stars using a cookie cutter (7 cm diameter). Place them on a baking sheet. For the half of them cut out an inner star with a cookie cutter (6 cm diameter) and remove the inner star. Knead the inner stars with the rest of the dough and roll the dough out again.
3. Bake for eight to 10 minutes in the preheated oven. Allow cookies to cool.
4. For decoration , mix the orange jam, water of orange blossom and sugar in a saucepan and bring them to a short boil. Filter the mix through a sieve. Cool it down and put it into a piping bag.
5. Top the jam on the cookies and decorate the holed stars with icing sugar. Top each cookie with the decorated stars
Nutrition Information
Makes 40 biscuits
Love baking? Check out our gallery below.