You can't beat a classic dish of cauliflower cheese and this little recipe is the ultimate version for this comforting dish.
Perfect for serving with your Christmas dinner, this tasty number involves using French mustard and nutmeg for that extra pizzazz. It's basically a whole bowl of cheesy, creamy goodness. Yum!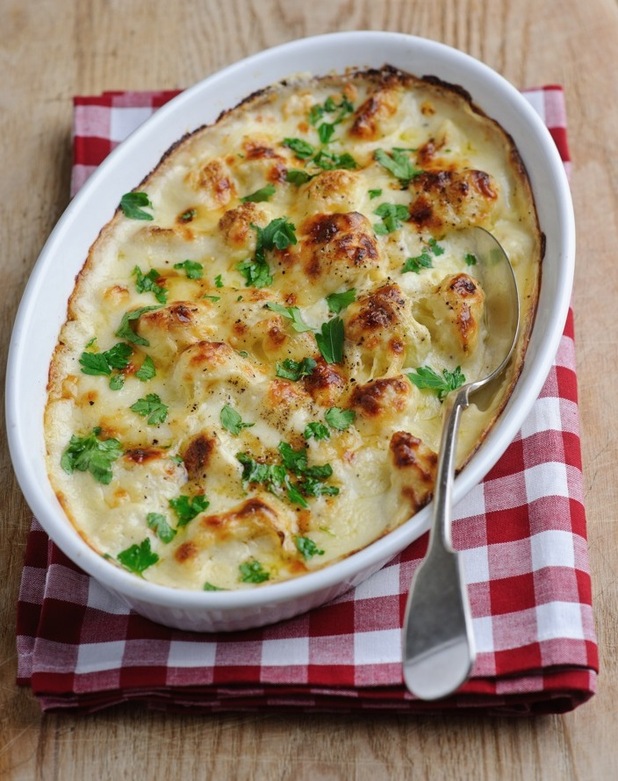 Ingredients
1 cauliflower
50g of unsalted butter, plus a bit extra for the ovenproof dish
50g plain flour
300ml milk
A generous grating of nutmeg
Freshly grated black pepper
1 tablespoon French grainy mustard, like Dijon
125g cheddar cheese, freshly grated
A handful of flat leaved parsley, finely chopped
Method
1
Firstly prepare the cauliflower by washing it and cutting it into individual little florets, with all the hard woody stems cut off. Place the florets in a double boiler and steam until they are soft and yielding when pierced with a sharp knife. Remove the cauliflower florets from the heat and place in a buttered, ovenproof serving dish.
2
Melt the butter in a saucepan. Stir in the flour and cook gently for 1 minute. Remove the butter and flour from the heat and stir in the milk, very gradually. Bring the milky mixture to the boil, and then continue cooking and stirring on a medium heat, until the sauce thickens.
3
Pre-heat the grill to its hottest setting.
4
Stir the nutmeg, freshly grated black pepper and the mustard into the sauce, along with half the grated cheese. Pour the sauce over the hot cauliflower, sprinkle with the remaining cheese and brown under the hot grill.
5
Serve with freshly chopped parsley sprinkled on top.
Prep Time
20 minutes
Cook Time
5 - 10 minues
Nutrition Information
Serves 4
Recipe courtesy of Love Your Greens
More comforting recipes:
Copyright: WENN
Reveal is now on Google Plus! Join us here for the latest pictures, fashion and celebrity news!