If you love chocolate and you adore cocktails, this is the recipe for you!This yummy Chocolate Martini tastes as good as it looks and will go down a treat at festive parties.
It's from a fabulous new book by City lawyers turned chocolate entrepreneurs Simon and Helen Pattinson.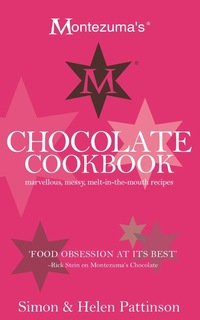 They're the brains behind the growing
Montezuma's Chocolate Empire
and their first book,
Montezuma's Chocolate Cookbook
is out now.
They write: "What happens when you put ten bartenders in a room and ask them to make a Martini?
"Ten different drinks come back at you: choose from gin or vodka, vermouth or not, stir it or shake it, float an olive or sink some lemon garnish. One drink, so many options.
"Here is one more you may not have tried – this will add a touch of controversy to the Martini debate. This recipe serves 4 generously or could make up to 8 smaller cocktails."
Ingredients
Chocolate syrup, for swirling
120ml chocolate milk, cold
150ml vanilla vodka, from the freezer
120ml Crème de Cacao
120ml Irish Cream liqueur
40g dark chocolate shavings, to decorate
Special equipment
large cocktail shaker
Martini glasses, placed in the freezer 10 minutes before
Method
1
Take the glasses out of the freezer and swirl a little chocolate syrup around the inside for decoration.
2
Half-fill a cocktail shaker with ice and pour in the chocolate milk, vanilla vodka, Crème do Cacao and Irish Cream liqueur. Shake.
3
Strain the mixture into the Martini glasses. Decorate each glass with shaved chocolate before serving.
Prep Time
10 minutes
Nutrition Information
Serves 4-8
Love chocolate? Check out our amazing gallery of recipes below....