Forget traditional Christmas puddings and Yule logs, if you really want to impress your guests this year, why not make this incredible vanilla and caramel nut ice cream pudding?
Although it looks complicated, this dessert is a doddle to make, meaning it's the perfect option when you want a speedy option that still has the wow factor. It piles in all sorts of yummy treats including chocolate raisins, Oreo biscuits and honey-roasted peanuts. It's then finished with a drizzle of hot chocolate sauce AND salted caramel sauce. Delicious!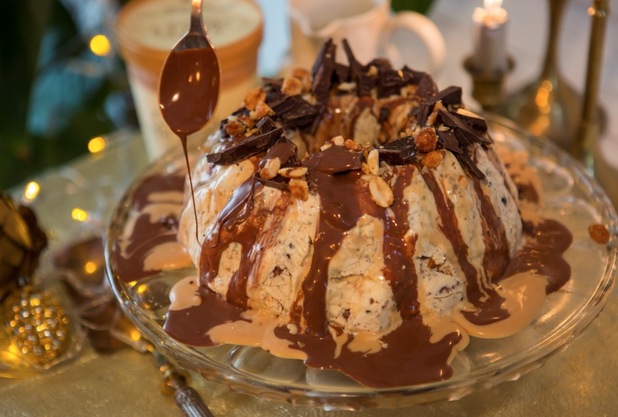 Ingredients
Ice cream pudding:
3 x 500ml tubs Green & Black's Organic Vanilla Caramel Nut Ice Cream (1.5 litres)
100g chocolate covered raisins
100g chocolate nougat bar, chopped into little chunks
100g honey roasted peanuts
150g Oreo biscuits bashed up into a mix of chunky bits and fine dust
1 chocolate honeycomb bar (40g), bashed up into a mix of chunky bits and fine dust
Hot chocolate sauce:
125ml double cream
75g dark chocolate ice cream
1 tablespoon golden syrup
2 teaspoons instant coffee powder, dissolved in 1 tablespoon hot water
Salted caramel sauce:
125ml double cream
75g butter
50g caster sugar
50g golden syrup
50g soft light brown sugar
1 teaspoon sea salt
Method
Hot chocolate sauce:
1
Break up the chocolate and put into a heavy-based saucepan.
2
Dissolve the instant coffee powder in 1 tablespoon of water and add this, along with the rest of the ingredients, into the saucepan.
3
Place the pan over a very gentle heat and let everything melt together. Once melted, stir and take off the heat.
Salted caramel sauce:
NB: This sauce can be made up to one week in advance and stored airtight in the fridge.
1
Melt the butter, both sugars and the syrup in a small heavy based pan. Simmer until all the sugar has melted and the caramel becomes golden.
2
Add the cream and the sea salt. Stir until combined and take off the heat.
Ice cream pudding:
NB. This can be made up to two weeks before eating.
1
Let the ice cream soften slightly in the fridge, for about 10 minutes. Meanwhile, line the inside of a deep fluted flan tin, bundt tin, or pudding bowl, with cling film, so that it overhangs at the top. This will make it easier to pull out when set.
2
Decant the slightly softened ice cream into a new mixing bowl. Mix in the peanuts, half of the chocolate raisins, half of the chocolate nougat chunks, half of the Oreo crumbs and all of your bashed chocolate honeycomb bar and stir. If making this in advance of Christmas day, keep the remaining crushed up confectionery in plastic wrap bags and store.
3
Scrape the ice cream mixture into the lined bowl, pushing it all down firmly and smoothing the top. Cover the top with cling film and place in the freezer to set completely.
4
On the day of serving, put your cake stand or serving plate in the freezer, to get it really cold. Pull the cling film gently away and place on the cold stand or plate. Gently re-heat your salted caramel and hot chocolate sauces as required and lather them over the top.
5
Sprinkle the top with the rest of the Oreo crumbs bashed up chocolate pieces.
6
Serve any extra sauce in jugs on the table and dig in.
Nutrition Information
Serves 8 - 10
Get baking with these fabulous cake recipes:
Copyright: Eggs For Soldiers
Reveal is now on Google Plus! Join us here for the latest pictures, fashion and celebrity news!