When you get in from a long day at work, the last thing you want to do is slave away in the kitchen, so we've got a speedy supper for those midweek meals.
This stir fried pork with black bean sauce and noodles is packed with flavour and takes no time at all to rustle up. Just follow these simple steps to create an oriental-style dinner.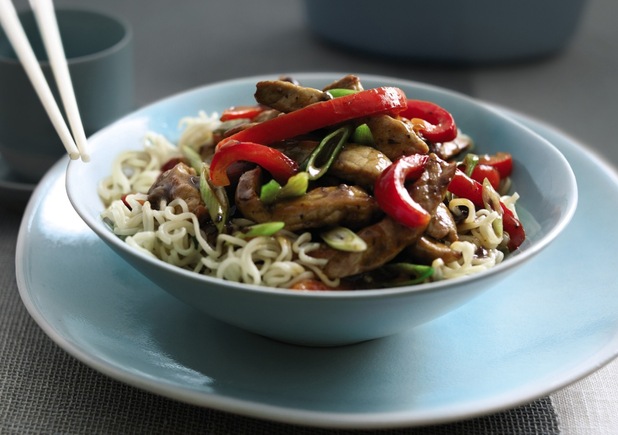 Ingredients
4 pork loin chops
4 tablespoons vegetable oil
2 peppers cut into strips
8 sliced spring onions
500g black bean sauce
2 cloves of garlic
2 packs of instant noodles
Method
1
Heat a wok or non-stick frying pan with 2 tablespoons vegetable oil.
2
Add half the chopped pork and stir fry until nicely coloured, then remove from the pan or wok. Repeat the process until the pork is all cooked.
3
Wipe out the wok with kitchen towel, re-heat with 2 tablespoons vegetable oil.
4
Add the peppers, garlic and spring onions, and stir fry over a high heat for 3-4 minutes, or until softened.
5
Add the sauce and stir well, then add the pork and any juice left over from the plate. Serve over
Aldi
instant noodles.
Prep Time
10 minutes
Cook Time
15 minutes
Nutrition Information
Serves 4
More tasty oriental recipes:
Chilli Beef Stir Fry
Thai Green Chicken Curry
Chinese Sweet and Sour Chicken
Asian-style Marinated Salmon With Rice Noodle Salad
Check out more spicy recipes in our gallery below...