Halloween doesn't have to be all about cakes and sweets; we've got a relatively healthy recipe here for bircher muesli and roasted pumpkin seeds.
Its combo of fresh puréed pumpkin, cinnamon, ginger and natural yoghurt makes for the perfect brekkie. This is a great way to use up your pumpkin once it's been carved for Halloween festivities and you'll be left with a gorgeous morning treat!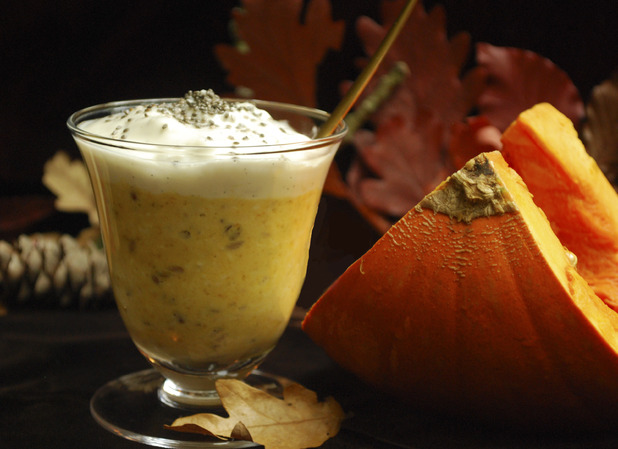 Ingredients
For the muesli:
1/2 cup (50g) jumbo rolled oats.
1 tablespoon linseed.
1/2 cup (120g) natural yogurt.
1/2 cup (120ml) water.
1/2 cup (120g) puréed pumpkin.
1 - 2 tablespoons maple syrup.
Pinch of cinnamon if desired.
For the topping:
3/4 cup(175g) natural yogurt.
1/4 cup (35g) crystallized ginger pieces, chopped.
1/4 teaspoon vanilla paste or vanilla essence.
Pumpkin seeds
Coconut oil
Method
1
Start with making the pumpkin purée. Take a good size piece of peeled pumpkin, chop and cover with water.
2
Simmer for several minutes until very soft and until all water has boiled away.
3
Mash with fork. Add a pinch of salt if desired.
4
Mix the muesli ingredients together (oats, linseed, natural yogurt, water, pureed pumpkin, maple syrup and cinnamon) and put in individual bowls or one large bowl. Leave to sit overnight.
5
To roast pumpkin seeds, scoop seeds from pumpkin. Wash and dry well. Toss in one teaspoon coconut oil and a sprinkle of salt.
6
Roast on baking tray at 150 degrees until golden. Turn often to prevent burning.
7
Mix all the topping ingredients together (natural yogurt, crystallized ginger pieces and vanilla paste / essence) and when set, put a layer of yogurt topping on each. Sprinkle with roasted pumpkin seeds.
Prep Time
40 minutes (25 to make puree, but can alternatively be purchased). Muesli needs to be left over night.
Nutrition Information
Serves 4
Recipe courtesy of
Cuckoo
More Halloween recipes:
Halloween Cocktail For Witches' Brew
Freaky Fingers and Creepy Mash
Sticky Orange and Yoghurt Cake
Spider Web Pumpkin Cupcakes
Reveal is now on Google Plus! Join us here for the latest pictures, fashion and celebrity news!