For a quick and easy way to a hearty supper, why not whip up this gorgeous savoury cheese and leek bread pudding?
This warming number is a real winner when you're looking for a simple solution to something really comforting. Serve to the whole family for a delicious dinner in the cold evenings.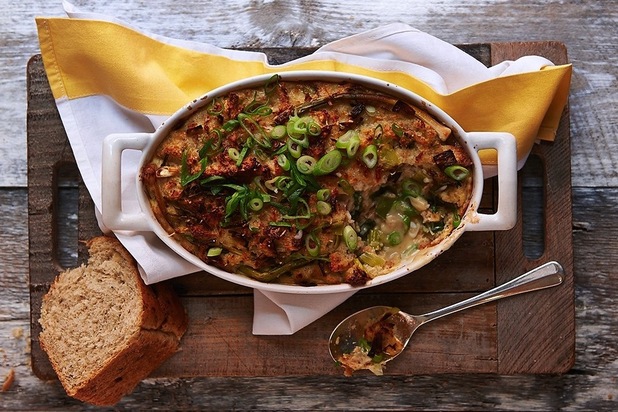 Ingredients
2 medium leeks, sliced
1 large loaf of Hippity Homity, sliced and cut into triangles
12 cherry tomatoes, halved
150g (5oz) Cheddar cheese, grated
40g (1 1/2oz) butter
600ml (1 pint) milk
3 medium eggs
Freshly ground black pepper
1/2 teaspoon sea salt
Method
1
Grease a 1.5 litre (2 1/3 pint) baking dish with a little butter. Melt the remaining butter in a frying pan and gently fry the leeks for about 5 minutes, until softened.
2
Put a layer of bread in the base of the baking dish. Scatter half the leeks and cherry tomatoes on top, then sprinkle with half the grated cheese. Arrange the remaining bread triangles over the surface, followed by the rest of the leeks and cherry tomatoes.
3
Beat the milk and eggs together and season to taste. Pour evenly over the bread, then sprinkle with the remaining cheese. Leave to stand for 20-30 minutes.
4
Preheat the oven to 190°C, fan oven 170°C, Gas Mark 5. Bake the pudding for 30-35 minutes, until puffed-up and golden brown.
Prep Time
25 minutes
Cook Time
30 - 35 minutes
Nutrition Information
Serves 6 - 8
More gorgeous dinner ideas:
Spicy Lamb Keema Shepherd's Pie
Sticky Sausages With Smoky Mash
Spicy Chicken Fajitas
Chilli Beef Stir Fry
Love vegetarian food? Take a look at these...