There really is no better culinary combination than bangers and mash, but rather than sticking with your classic flavours, why not mix things up with this fab vegetarian recipe?
Use meat-free tomato, basil and mozzarella sausages that are packed with flavour, with mash that's been jazzed up with plenty of cheese and butter. And the final addition? Caramelised onion gravy – it tastes as good as it sounds, trust us!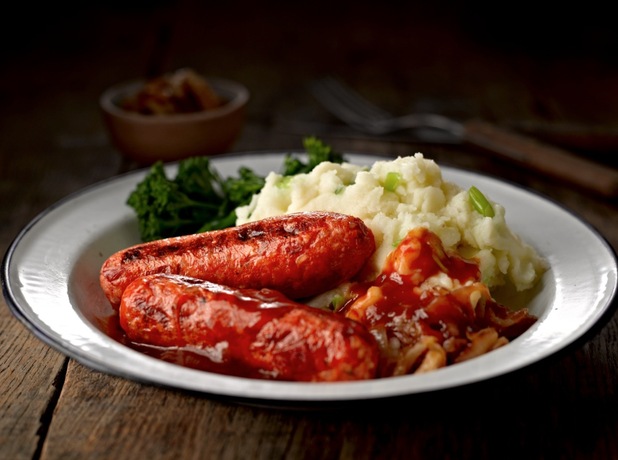 Ingredients
For the mash:
1 packet of Goodlife Red Sky Tomato & Basil Sausages with Creamy Mozzarella
2 large floury potatoes cut into large chunks
150ml milk
Knob of butter
25g Italian hard cheese, or vegetarian Parmesan, grated (add more if you like!)
For the caramelised onion gravy:
1 tablespoon butter
400g (14oz) white onions finely sliced
½ teaspoon sugar
1 tablespoon cider vinegar
2 teaspoons plain flour
500ml (2 cups) quality stock
1 teaspoon wholegrain mustard
½ teaspoon black pepper and 1 bay leaf
Method
1
Grill the sausages according to the instructions on the pack.
2
Once they are cooking, start by putting the potatoes in a pan and boiling in salted water for 15-20 minutes until tender.
3
While the potatoes are boiling, make the gravy. Melt the butter in a large flat-bottomed pan over a low heat on the hob, taking care not to let it burn.
4
Add the sliced onions with the sugar and cook stirring at regular intervals until the onions have caramelised and become sticky. This will take around 20 minutes.
5
Once the onions are nicely browned, add in the cider vinegar and allow it to evaporate. Remove from the heat and stir in the flour followed by the stock, mustard, black pepper and the bay leaf. Return to the heat, bring to a simmer stirring until thickened.
6
Place on the lid and continue to cook over a low heat for 10 minutes to infuse the flavours.
7
Whilst the gravy is simmering, remove the sausages from the oven/grill, and drain the potatoes.
8
Put the milk and butter in a separate pan, bring to the boil, add the potatoes, and then mash until creamy. Stir in the cheese, and season.
9
Remove gravy from the heat and remove the bay leaf before serving.
Prep Time
20 minutes
Cook Time
20 minutes
Nutrition Information
Serves 2
More delish veggie recipes:
Copyright: Morrisons
Reveal is now on Google Plus! Join us here for the latest pictures, fashion and celebrity news!