Pasta is super versatile and a great way to a speedy, but delicious supper. One of our current favourites is this tasty creamy number with asparagus and toasted walnuts.
And despite it containing cream, this recipe is actually vegan friendly! Combined with linguine, shallots and mushrooms, we recommend serving this gorgeous dish whenever you're craving a comforting dinner.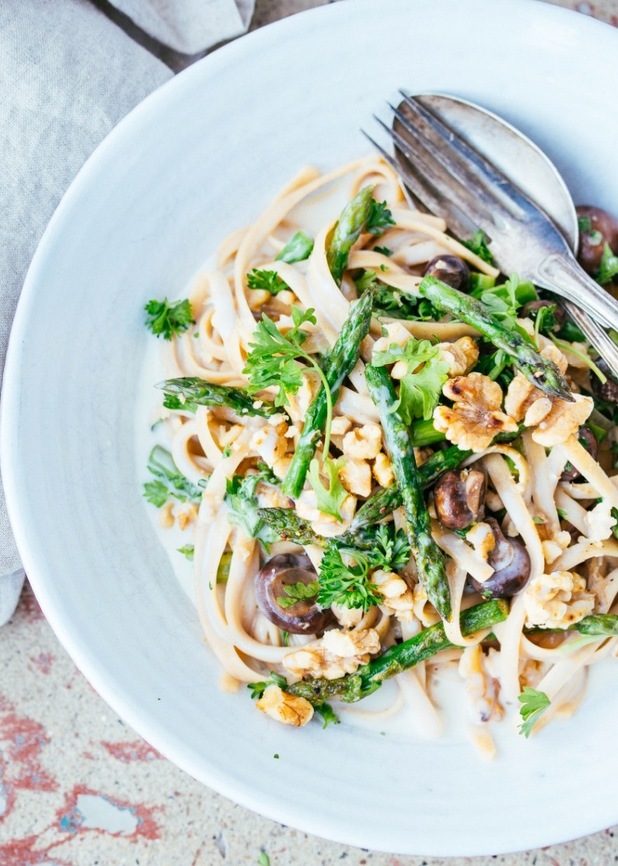 Ingredients
500ml Oatly Organic Creamy Oat
30g linguine
2 shallots, finely chopped
2 cloves of garlic, crushed
250g asparagus
100g mushrooms, chopped
2 tablespoons sugar
1 vegetable stock cube
3 tablespoons chopped parsley
100g walnuts
1⁄2 lemon
Salt and freshly grounded black pepper
Method
1
Heat a large frying pan over medium high heat. Add walnuts to the hot, dry pan and cook until walnuts starts to brown. Set aside.
2
In a large pot of boiling salted water, cook pasta according to instructions.
3
Break off the tough ends of the asparagus and cut them into equally sized spears. Sauté the asparagus with olive oil in a large skillet on medium-high heat until tender. Season with salt and black pepper and set aside.
4
In a large skillet heat oil over medium-high heat, add the mushrooms and cook for 4 to 5 minutes or until tender. Then add the shallots and garlic and cook until soft.
5
Crumble the stock cube into the pan, and then add the sugar and dairy-free cream alternative. Squeeze over lemon juice, bring to boil and let it simmer for 10 minutes.
6
Add the asparagus, parsley and pasta. Toss gently to coat and season to taste with salt and pepper. Serve sprinkled with toasted walnuts.
Prep Time
10 minutes
Cook Time
30 minutes
Nutrition Information
Serves 4
Check out these other delish pasta recipes:
Mac and Cheese With Spinach
Goat's Cheese and Summer Vegetable Linguine
Smoked Salmon and Prawn Pasta
Creamy Mushroom and Chicken Spaghetti
Reveal is now on Google Plus! Join us here for the latest pictures, fashion and celebrity news!
Check out our gallery of delicious soups below