On paper, strawberry and chilli jam may sound like a bit of an odd combo, but this fiery kick really works with the sweetness of the strawberries. Trust us.
Better still, we have a recipe that shows you how to make your own! This homemade version will make a great gift, just follow these simple steps and serve in a pretty jar before dishing out to your foodie friends.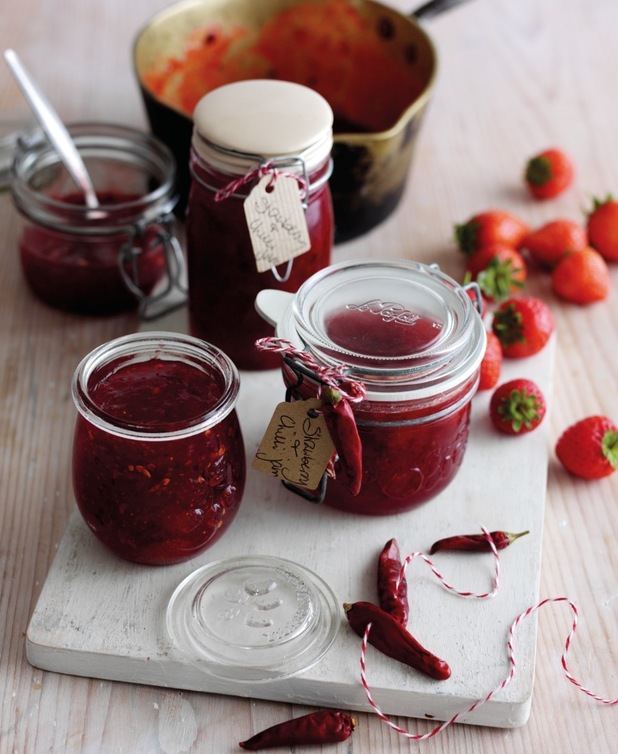 Ingredients
1kg (21/4lb) strawberries, hulled and halved
1 teaspoon dried crushed red chillies
1kg (21/4lb) jam sugar with pectin
2 limes, grated rind and juice
15g (1/2oz) butter
Method
1
Divide the strawberries in two, adding the larger ones to one pile and the smaller ones to the other. Add the larger strawberries to a preserving pan or large saucepan and roughly mash with a potato masher.
2
Add the remaining smaller strawberries, dried crushed chillies and sugar and heat gently, stirring from time to time, for about 5 minutes until the sugar has dissolved and the strawberries are beginning to soften.
3
Stir in the lime rind and juice, then bring the mixture to the boil and boil rapidly for 4 minutes until setting point is reached, skimming off any scum while it is boiling with a draining spoon. To check for setting point, spoon a little of the jam on to a cold saucer, wait for a minute or two then run your finger through the jam, it should wrinkle and leave a space where your finger has been.
4
Take off the heat and stir in the butter to disperse any remaining scum. Ladle into warm dry jars, filling to the very top, then stir to disperse the pieces of strawberry evenly. Cover with clean dry screw topped lids or waxed discs and cellophane then leave to cool. Decorate with labels, string or ribbon and dried chillies if liked.
Prep Time
15 minutes
Cook Time
10 minutes
Nutrition Information
Makes 5 - 6 assorted small jars
The jam will keep for several months in a cool dry place, but once the jar is opened store in the fridge
Love jam? Check out these recipes:
Strawberry Jam Layered Cake
Mini Gooseberry and Elderflower Sponges
Fruity Croque Monsieur
Black Forest Roulade
Reveal is now on Google Plus! Join us here for the latest pictures, fashion and celebrity news!