While we do love a classic steak and peppercorn sauce combo, sometimes it's nice to mix things up a bit. If you're thinking of new ways to serve your steak, how about using blackberry vinegar?
This fruity condiment is really easy to whip up and works perfectly with the chunky steak, pancetta and fresh salad. It also recommends using bavette steak, as they're cheaper than other cuts, but still packed with flavour. The blackberry vinegar will need to be left for two days before using, but once made, it will last for around 3 - 4 weeks.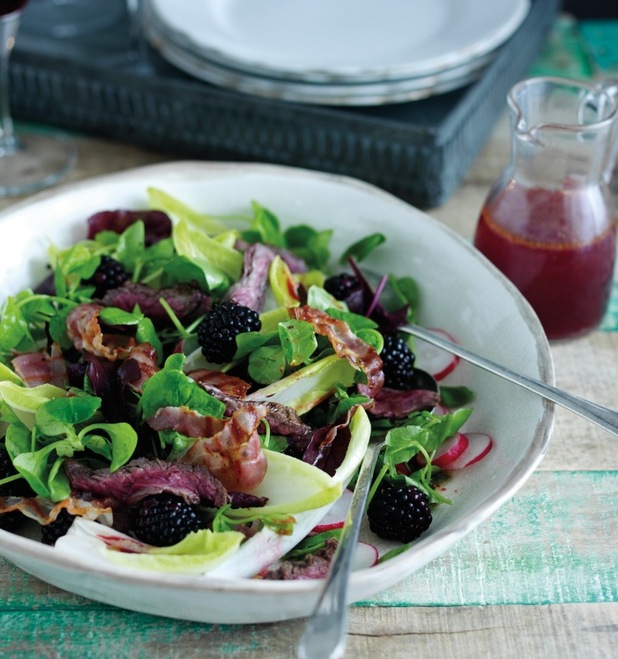 Ingredients
For the blackberry vinegar:
225g/8oz blackberries
350ml Cabernet Sauvignon red wine vinegar
2 x 250g (9oz) Bavette beef steaks
6 tablespoons blackberry vinegar, see recipe below
salt and freshly ground black pepper
For the dressing:
2 tablespoons blackberry vinegar
2 tablespoons olive oil
1 teaspoon runny honey
For the salad:
1 green or red tipped chicory, leaves separated
100g (4oz) pack mixed red chard, lambs lettuce and pea shoots
100g (4oz) radishes, trimmed, thinly sliced
150g (5oz) blackberries
12 rashers sliced smoked pancetta
4 teaspoons olive oil
Method
1
To make the blackberry vinegar: roughly crush 225g (8oz) blackberries in a bowl with a vegetable masher. Transfer to a large jam jar and pour on a 350ml (12 fl oz) bottle Cabernet Sauvignon red wine vinegar.
2
Mix well then screw the lid on tightly. Leave at room temperature for 2 days, shaking the jar once or twice a day then strain into a bottle and store in the fridge. This will last for 3- 4 weeks.
3
To make the seared steaks, add the steaks to a large shallow plastic box, china or glass dish then spoon over the blackberry vinegar and season with salt and pepper. Cover with a lid or clingfilm and chill overnight.
4
To make the dressing, add the blackberry vinegar, oil, honey and a little salt and pepper to a jam jar, screw on the lid and shake together well then decant to a small jug.
5
Add the chicory, salad leaves and sliced radishes to a large shallow salad dish and sprinkle over the blackberries.
6
Preheat a ridged frying pan if you have one, or an ordinary one if not. Add the pancetta and cook over a medium heat for 2-3 minutes turning the rashers once until the fat is golden. Lift out of the pan then reserve.
7
Drain the steaks and rub with the oil and season with salt and pepper. Fry over a high heat for 3-4 minutes, turning once for rare or 4-6 minutes for medium. Take out of the pan and leave to stand for 4-5 minutes then thinly sliced.
8
Halve the pancetta slices then add the steak and pancetta to the salad. Drizzle over the dressing and serve immediately with warm ciabatta bread.
Prep Time
20 minutes to make dish, plus overnight marinating. Two days for the blackberry vinegar.
Cook Time
3 - 6 minutes
Nutrition Information
Serves 4
More brilliant ways with steak:
Steak Kebabs With Ketchup Dressing
Steak Sandwich With Chilli Butter
Steak With Chilli and Chocolate Sauce
Five Minute Steaks With Fiery Onion & Tomato Chilli Sauce
Reveal is now on Google Plus! Join us here for the latest pictures, fashion and celebrity news!
Check out our gallery of salads and dips below.