Just because you're gluten intolerant, it doesn't mean you have to miss out on yummy desserts, like this delightful bread and butter pudding.
It uses gluten-free bread, as well as lots of delish treats like raisins, rum and apricot jam. Whipping up this stunning number means that everyone will be able to enjoy a slice of this comforting pud.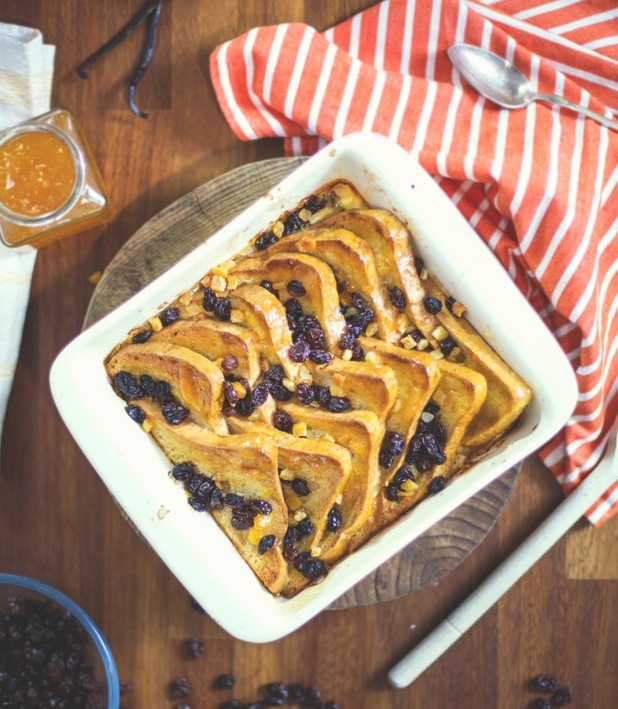 Ingredients
3 tablespoons raisins
1 tablespoon mixed peel
100ml/3 fl oz rum or brandy
55g/2 oz butter, softened
7-8 slices of Genius White Gluten Free Bread, thinly sliced and crusts removed
300ml/10 fl oz whole milk
300ml/10 fl oz double cream
Vanilla pod, split down the middle with a sharp knife
3 large eggs
140g/4 oz caster sugar
2-3 tablespoons apricot jam
1-2 teaspoons icing sugar
Method
1
Soak the raisins and mixed peel in the rum or brandy then preheat the oven to 170°C/325°F/gas mark 3.
2
Butter the bread, cut each slice in half on the diagonal and arrange in the ovenproof dish.
3
Pour the milk and cream into a pan and bring to boil with the vanilla pod. Whisk the eggs and sugar together, then whisk in the hot milk mixture. Scrape the vanilla pod seeds into the milk and discard the pod.
4
Sprinkle the soaked raisins, with any remaining rum or brandy and the mixed peel over the bread then pour over the custard.
5
Place the dish in a roasting tray on the middle shelf of the oven. Carefully pour water into the tray until it comes halfway up the sides of the ovenproof dish.
6
Gently put the roasting tray into the middle of the oven and bake the pudding for 45 minutes or until lightly set and golden brown.
7
Warm the apricot jam, pass through a sieve to remove the fruit and brush liberally over the pudding. Dust with icing sugar and serve.
Prep Time
20 minutes
Cook Time
45 minutes
Nutrition Information
Serves 6
More gluten-free recipes:
Copyright: Lurpak
Reveal is now on Google Plus! Join us here for the latest pictures, fashion and celebrity news!