Is there anything better than a chocolate sponge cake? We think not! This classic treat is always a winner for both kids and adults, and now you can make your own with this easy recipe to mark National Chocolate Week.
Chocolate sponge is topped with a gorgeous buttercream to create a brilliant baked wonder. Just one slice won't be enough, trust us!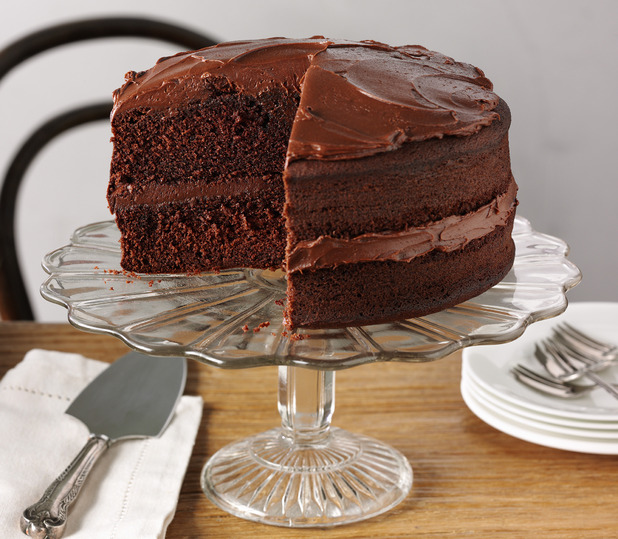 Ingredients
For the cake:
330g (11½oz) unsalted butter, softened
330g (11½oz) Lyle's Golden Syrup
6 large eggs, at room temperature, lightly beaten
275g (10oz) self-raising flour
60g (2½oz) cocoa
1 rounded teaspoon bicarbonate of soda
2 tablespoons milk
For the chocolate buttercream:
110g (4oz) dark chocolate 70% cocoa solids, broken into squares
150g (5oz) unsalted butter, softened
75g (3oz) golden syrup
110g (4oz) icing sugar
You will also need 2 x 20cm (8") sandwich tins, greased and the bases lined with parchment paper.
Method
1
Preheat the oven to 180°C/160°Fan, 350°F, Gas 4.
2
In an electric mixer whisk the butter and golden syrup until soft and creamy for about 5 minutes, scraping down the sides once or twice.
3
Next, add the eggs a little at a time, making sure each batch is well combined before adding the next, which will take about 6-8 minutes. Don't worry when the mixture curdles as it will come together again once the flour is added.
4
Sift over the flour, cocoa and bicarbonate of soda in two batches, lightly, and quickly fold it in with a large metal spoon. Add the milk to make a soft consistency which will easily drop from the spoon.
5
Spoon the mixture into the cake tins where it will come not quite to the top and level out.
6
Bake on the middle shelf of the oven for 30-32 minutes until well risen - a fine skewer should come out clean when inserted in the centre and the cakes spring back when lightly pressed with a finger.
7
Leave to cool for 20 minutes and then turn out onto a wire rack to cool completely and discard the parchment.
8
Meanwhile make the chocolate buttercream by melting the chocolate in a small non-metallic bowl in the microwave for about 30-60 seconds. Or alternatively with a heatproof bowl set over a pan of simmering water for a few minutes. Leave to cool.
8
Beat the butter and golden syrup together in a mixing bowl and sift over the icing sugar until soft and smooth, then mix in the melted chocolate.
9
Sandwich the cakes together with half of the buttercream and use the rest to spread decoratively over the top. Arrange on a plate and serve.
Prep Time
40 minutes
Cook Time
30 - 35 minutes
Nutrition Information
Serves 8 - 10
More fab chocolate recipes:
Copyright: Lindt
Reveal is now on Google Plus! Join us here for the latest pictures, fashion and celebrity news!