We all need a good dosage of healthy food sometimes and this salad is the perfect option when you want that fresh food fix.
Created by head chef Emma Blackmore of London's
Pod
it's one of several new autumn recipes designed to keep your energy levels up and the boost your immune system ahead of winter.
Dubbed the supergrain salad, this piles in the likes of uber trendy quinoa, freekeh and chia seeds for a meal that's packed with nutrients and antioxidants. While peas, onions and avocado are blended into the mix, which is then doused in a zesty lemon dressing. Yum!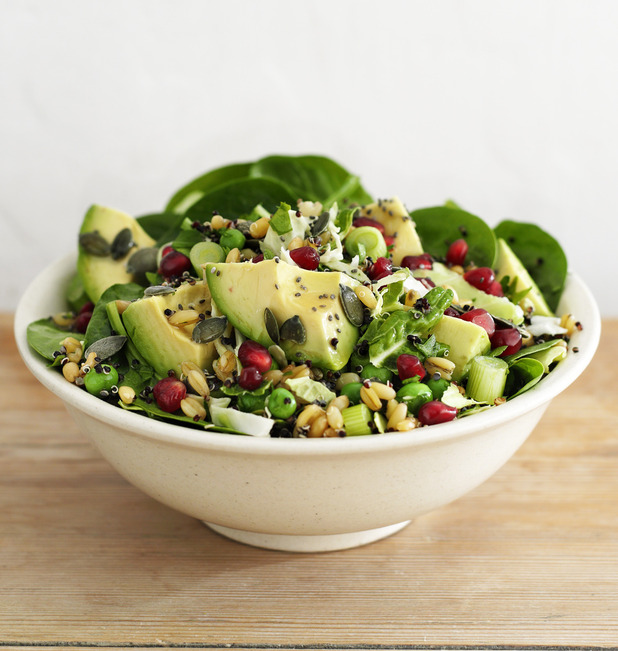 Ingredients
60g cooked black quinoa or black lentils
50g cooked peas
80g cooked freekeh
5g spring onions – sliced thinly
30g green cabbage - shredded
5g chopped flat parsley
25g baby spinach
50g diced avocado
2g pumpkin seeds
1g chia seeds
8g pomegranate seeds
Lemon dressing of your choice
Method
1
Toss the black quinoa, peas, freakeh, spring onions,green cabbage, parsley together and place into a bowl.
2
Scatter over the spinach and avocado.
3
Scatter the pumpkin and chia seeds over the avocado.
4
Then scatter over the pomegranate.
5
Finish by pouring over the lemon dressing.
Nutrition Information
Serves 1
More fab salad ideas: